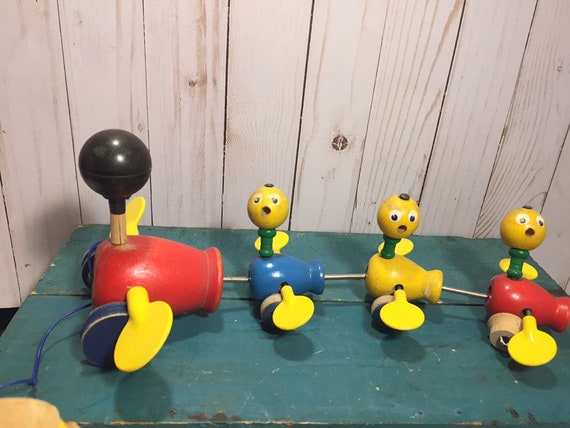 1960 Fisher Price Gabby Goofy pull toy, fair condition, nursery decor by Wantiquities
This is from the Fisher PRice toy database:
The Gabby Goofies is very similar to the long-running #799 Quacky Family, except this toy that puts a fun little twist on the design of the ducks. Unlike the #799 Quacky ducks, the Gabby Goofies have long wooden necks, long wooden beaks, and plastic side wings that twirl when the toy is pulled. Each Gabby's body and head wobbles and the large leading Gabby also makes a "chatter-chatter-chatter" noise when pulled.
Accessories:
FPT4389 – Wooden Gabby Goofy duck family with a large lead duck in the front and 3 small ducks following behind connected by unbreakable steel connectors. The large duck has a round green wooden body, a long wooden neck, a round orange wooden head with black and white heat-stamped eyes, a long white wooden beak, and a small round green wooden hat with a large black vinyl floppy rim. The duck rolls on 2 black wooden wheels with black rubber traction, has 2 round yellow plastic wings on the sides that twirl, and makes a "chatter-chatter-chatter" noise when pulled. The three baby Goofies all have round wooden bodies, long yellow wooden necks, small round orange wooden heads with black and white heat-stamped eyes, long white wooden beaks, plastic wings that twirl, and roll on 2 black wooden wheels. The first baby Goofy has a yellow body, the second has a blue body, and the third has a red body. Measures 13" long, 5-1/2" high, and 6-1/2" wide.
NOTED: mother's head is replaced, not correctly, either! Baby ducks are missing beaks.
Last duck has replaced wheels.
This is a cute project for someone to fix!
Share this post & the power of local to your other favorite networks:
Buy on Etsy