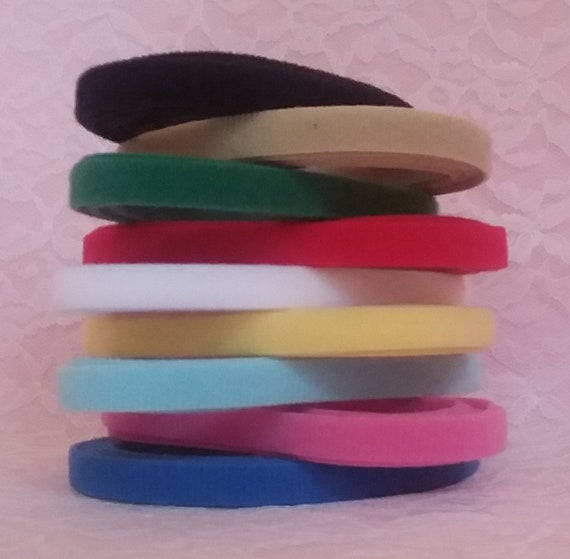 2 Yard length of 3/8" wide Ultra Thin Velcro® Brand hook & loop closure, face mask filter closure by DollDesignsEFY
>>> PLEASE ORDER CAREFULLY – CHOOSE YOUR LENGTH AND A QUANTITY OF 1 . <<<<<<<
Only $1.63 per yard! Sold in multiples of 2 yards.
This 3/8" wide two sided authentic Velcro® brand hook and loop fastener is perfect for doll dress closures. It is ultra thin and is available in a myriad of colors, perfect to match any outfit. The hooks are on one side and the loops are on the reverse.
Cut two strips and sew on opposite sides. Incredibly thin closure when married.
HERE IS A TIP FOR USING AS A CLOSURE FOR DOLL DRESSES AND OTHER SMALL SEWING SITUATIONS:
Make your own adhesive-backed Velcro® strip.
Get a roll of scrapbook adhesive.
www.officesupply.com/craft-supplies/scrapbooking/adhesives/runners-squares/tombow-mono-permanent-adhesive-refill-length-permanent-bond-each/p322013.html?ref=pla&utm_source=google&utm_medium=cpc&adpos=1o2&scid=scplp322013&sc_intid=322013&gclid=EAIaIQobChMI85flzvju4wIVz1qGCh1PDQuwEAYYAiABEgJKrvD_BwE
Put down a line of adhesive, either on the fabric or on the Velcro® strip. Then affix the Velcro® strip to the target fabric. Now sew in place. The Velcro® will totally cover the adhesive, will stay in place while you sew, and you won't need to use pins!
Also can be used as strapping to wrap around bundled items, such as cables and Christmas light strands or to gently secure plants to stakes.
Choose from the following colors available for immediate shipment.
> NEW! Marigold Yellow
> Black
> Beige
> Green
> Red
> White
> Yellow
> Aqua
> Pink
> Blue
> Purple
> Grey
> Orange
> Brown
Also available in 25 yard rolls upon request for $30.00 per roll ($1.20/yd). Contact me for details.
Offered in multiples of 2 yards so you don't have to purchase more than you need. Remember, you need 2 lengths for each use. 2 yds. gives you 1 yd. of closure. Each color is sent in a continuous roll.
Shipping cost is $4.00 anywhere in the U.S. for any length of the initial color. For more than two yards of a single color, increase the length (e.g. 6 yards as opposed to 3 orders of 2 yards. The 6 yds ship for a single $4.00 charge.) Additional colors (after the first one) ship for $ .50 each regardless of length, so order multiple colors in the same order and save on shipping!
Made in the U.S.A.
This is a CUSTOM ORDER and cannot be returned.
Also check out our listing for 1/8 inch white elastic for face masks at:
www.etsy.com/listing/793478210/18-inch-flat-white-elastic-by-the-yard?ref=shop_home_active_2
Share this post & the power of local to your other favorite networks:
Buy on Etsy