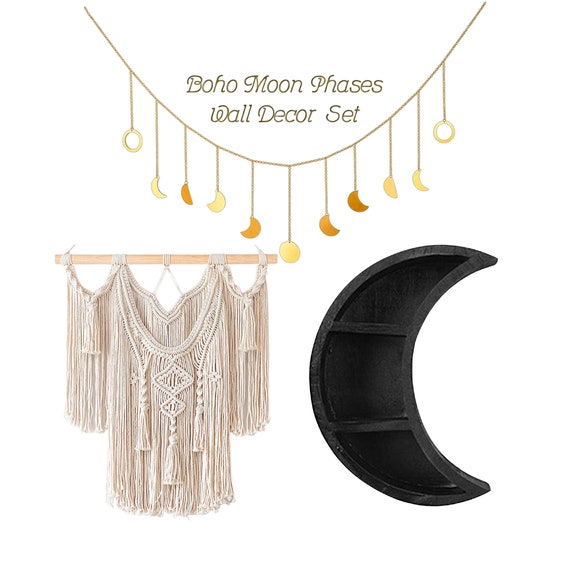 4 PC Boho Style Home Nursery Bedroom Macrame Moon LED Wall Hanging Gift SET by BohoGrow
4 PC Boho Style Home Nursery Bedroom Macrame Moon LED Wall Hanging Gift SET
The perfect set of our bestsellers in Nursery/Bedroom Decor!
Exclusive Summer Deal at a savings of 50% from individual item purchase!
Total Retail Value $148.00
♥‿♥ Free Shipping To USA ♥‿♥
Includes the Following Four Items:
1. Macrame Wall Hanging on Wooden Dowel
25" x 26" plus 6" Hanging Cord.
Crafted in Organic Cotton Cording
Value: $69
2. Dark Wood Moon Wall Shelf or Tabletop Storage Box
Hangers Attached To Back
Approx. 9" x 5" x 2"
Value: $26
3. 1 7FT Long String of LED Fairy Lights
Battery Included
Warm White
Value: $19
4. Beautiful Moon Phase Metal Wall Hanging
Approx. 45" Long
Gold Dipped
Value: $34
𝑨𝒃𝒐𝒖𝒕 𝑻𝒉𝒆 𝑨𝒓𝒕𝒊𝒔𝒂𝒏
Our macrame creations are a team effort here at the Collective but we have two makers who excel in macrame art, Lucy and Brex. Lucy and Brex are brother and sister and are Scandinavian born, relocating to the USA several years ago. Both were taught to knot by their grandmother who spent 45 years creating macrame for sale from her home, supplementing her income to allow her to raise 12 beautiful, happy and creative children!
Grandma was fond of saying:
"Art is about passing it down, pulling it through and paying it forward"
We have these words of wisdom framed and displayed in our workspace.
Share this post & the power of local to your other favorite networks:
Buy on Etsy