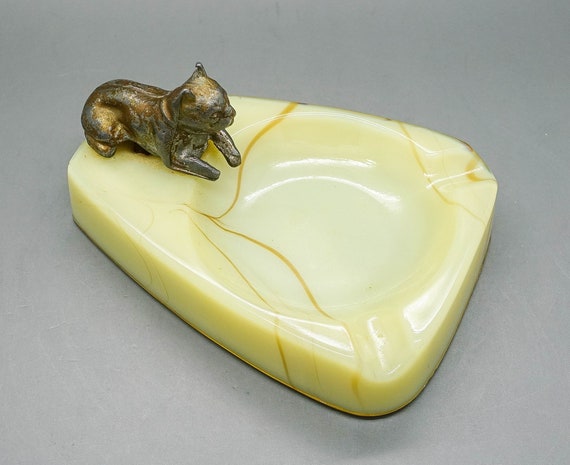 Akro Agate Brass / Metal French Bulldog Ashtray – Estate Piece by Grandmasvintagepipes
Here is another Akro Agate piece for you. This one is a Depression glass Akro Agate ashtray adorned with a brass French Bulldog (or brass coated post metal). I have owned/listed many of these and they are just so cool. This is an ashtray but can be used as a pipe/cigar holder as well. This one is in excellent estate condition. There are no makers marks on this one. Unlike many describe these ashtrays they are not uranium glass; they are made of Agate. It is a form of the mineral Chalcedony, which is a microcrystalline variety of Quartz. I did use UV light on this one and it is not luminescent, to be clear it does not glow green under UV lighting.
Company Info: Akro Agate Company of Clarksburg, West Virginia is famous as the maker of a special type of glass that consists of combining colors together to produce a "marbleized" product called marbles. At one time, these multi-colored tiny balls of rolling glass were the rave toy game played, traded and prized by children everywhere. From 1932-1951, Akro produced distinctive dinnerware products and children's dish sets. Most of this product has deep opaque colors or marbelizations but they also had transparents too. Some of the famous styles include concentric rings, wide vertical ribbing and/or both forms on the same piece. Winged, solid handles on cups, sugars and creamers are almost always distinctively Akro. Some moulds were embossed with floral or deco formations. Akro Agate dinnerware today is considered depression glass.
The pipe/cigar used in the pictures is for display purposes only. As with all my pipes used for display purposes, if you see something you like just let me know and we'll see if we can make a deal.
The item: Akro Agate Brass / Metal French Bulldog Ashtray – Estate Piece
Overall Height: 3.5"
Width: 4.85" length
Weight: 12 ounces
Shipping:
All my items ship via USPS Priority Mail and I do combine shipping. I will ship this item via USPS Priority Mail (cost is $9.00 for shipping in CONUS and will arrive in 2-3 business days). I will normally ship either same day or next business day. If there is a need for faster shipping, please contact me for a quote.
Share this post & the power of local to your other favorite networks:
Buy on Etsy