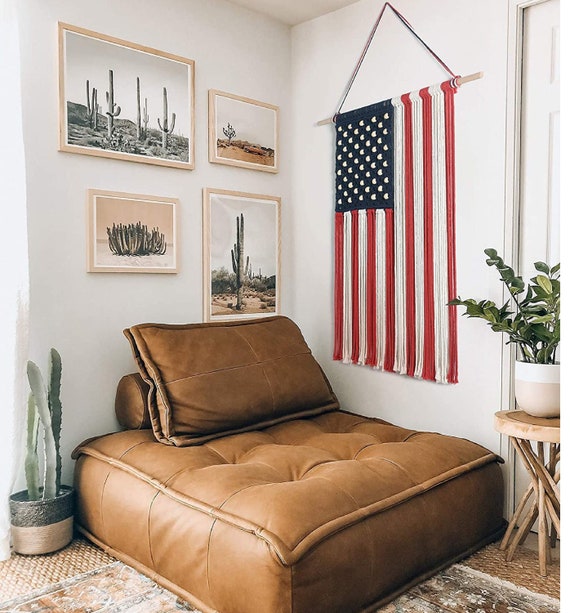 American Flag Patriotic Macrame Wall Hanging Banner Boho Decor by BohoGrow
American Flag Patriotic Macrame Wall Hanging Banner Boho Decor
♥‿♥ Free Shipping To USA ♥‿♥
Create a bohemian statement on any open wall with this macrame wall hanging!
Perfect in a nursery, living room, bedroom, etc.
➤ Width: 25.5"
➤ Total Length: 37"
➤ Crafted Here in CT, USA
➤ Choose WITH Wooden Dowel or WITHOUT
🎁 Free Gift With Every Purchase
🎁 Gift Wrap & Card Option At Checkout
☆꧁𝑨𝒃𝒐𝒖𝒕 𝑻𝒉𝒆 𝑨𝒓𝒕𝒊𝒔𝒂𝒏꧂☆
Our macrame creations are a team effort here at the Collective but we have two makers who excel in macrame art, Lucy and Brex. Lucy and Brex are brother and sister and are Scandinavian born, relocating to the USA several years ago. Both were taught to knot by their grandmother who spent 45 years creating macrame for sale from her home, supplementing her income to allow her to raise 12 beautiful, happy and creative children!
𝑾𝒆 𝒉𝒂𝒗𝒆 𝑮𝒓𝒂𝒏𝒅𝒎𝒂'𝒔 𝒎𝒂𝒏𝒕𝒓𝒂 𝒇𝒓𝒂𝒎𝒆𝒅 𝒂𝒏𝒅 𝒅𝒊𝒔𝒑𝒍𝒂𝒚𝒆𝒅 𝒊𝒏 𝒐𝒖𝒓 𝒘𝒐𝒓𝒌𝒔𝒑𝒂𝒄𝒆….
"𝑰𝒏 𝑩𝒐𝒕𝒉 𝑨𝒓𝒕 & 𝑳𝒊𝒇𝒆, 𝒊𝒕 𝒊𝒔 𝒂𝒃𝒐𝒖𝒕 𝒔𝒕𝒂𝒚𝒊𝒏𝒈 𝒕𝒓𝒖𝒆, 𝒑𝒖𝒍𝒍𝒊𝒏𝒈 𝒕𝒉𝒓𝒐𝒖𝒈𝒉, 𝒑𝒓𝒂𝒚𝒊𝒏𝒈 𝒕𝒐𝒘𝒂𝒓𝒅 𝒂𝒏𝒅 𝒑𝒂𝒚𝒊𝒏𝒈 𝒇𝒐𝒓𝒘𝒂𝒓𝒅"➤
Share this post & the power of local to your other favorite networks:
Buy on Etsy