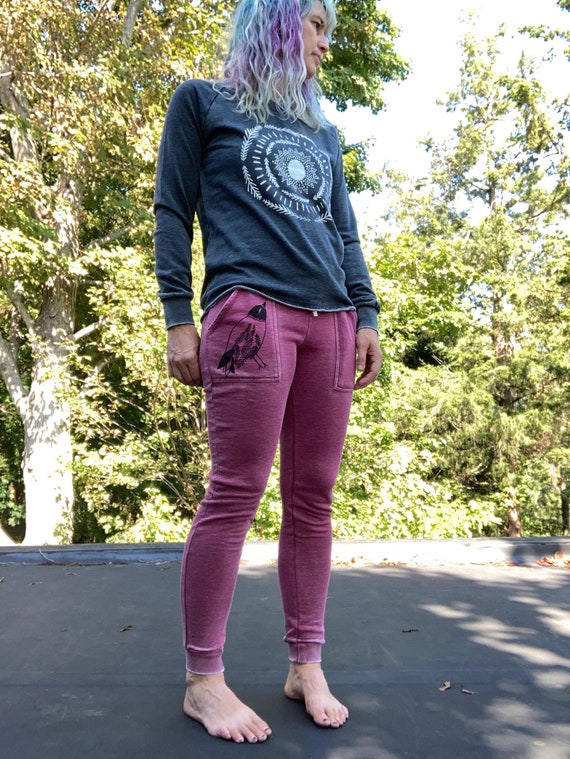 Autumn Harvest Sweatsuit, Loungewear, Cozy Sweats, Work From Home Outfit by nicandthenewfie
I'm introducing a new line of sweatsuits to my shop that are meant to be paired together. I've designed them so that the pants have a print that will relate to the print on the top. for this pair, the bird is printed on the pants pocket and the harvest sun is printed on the top. both pants and shirt are made of the comfiest burnout material that is both warm and cozy. get ready to groove at home in some unique sweats!
these will be available in a limited run and you must purchase both of them as they were designed to be worn together. I'm wearing the Small pants and the Medium Top altho i typically wear the Medium pants. I'm 5'7", 145 lbs, and a size 6 US women's.
Pants: Berry
XS: waist- 28-30" inseam- 28"
Small: waist- 30-32", inseam- 29"
Medium: waist- 32"-34", inseam- 29"
Large: waist- 34-36", inseam- 30"
Xlarge: waist- 36-38", inseam- 31"
Pullover: Pewter
S: chest 36", front 24" back 26"
M: chest 38" front 25" back 27"
L: chest 40", front 26" back 28"
XL: chest 44", front 27" back 29"
Share this post & the power of local to your other favorite networks:
Buy on Etsy