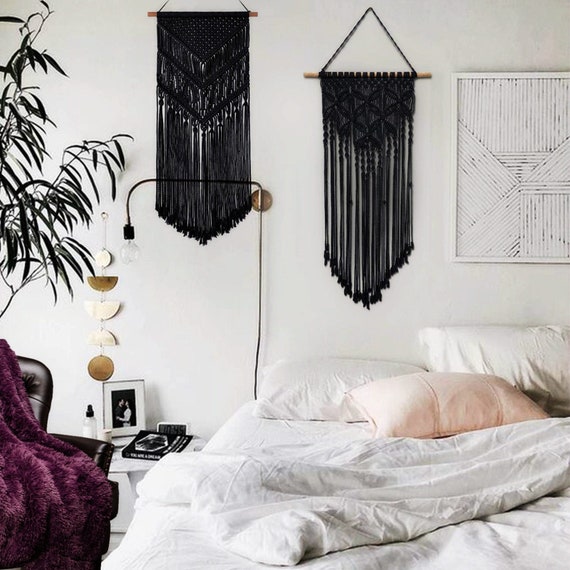 Boho Black Macrame Wall Hanging in 5 Styles by BohoGrow
★·.· 𝗙𝗿𝗲𝗲 𝗦𝗵𝗶𝗽𝗽𝗶𝗻𝗴 𝗧𝗼 𝗨𝗦𝗔 ·.·★
♥ Gift Wrap & Card Option At Checkout.♥
♥ Free Gift with every order! ♥
☆꧁𝑨𝒃𝒐𝒖𝒕 𝑻𝒉𝒆 𝑰𝒕𝒆𝒎꧂☆
➤Black Macrame Wall Hanging in 5 Designs
➤Handcrafted with 100% cotton rope
➤Wall Hanging A: 23"L x 10"W Approx.
➤Wall Hanging B: 28"L x 12"W Approx.
➤Wall Hanging C: 35"L x 15"W Approx.
➤Wall Hanging D: 36"L x 16"W Approx.
➤Wall Hanging E: 46"L x 17"W Approx.
➤Hangs on Wood Dowel
No two can be produced exactly alike of course but differences are minimal.
☆꧁𝑨𝒃𝒐𝒖𝒕 𝑻𝒉𝒆 𝑨𝒓𝒕𝒊𝒔𝒂𝒏꧂☆
Our macrame creations are a team effort here at the Collective but we have two makers who excel in macrame art, Lucy and Brex. Lucy and Brex are brother and sister and are Scandinavian born, relocating to the USA several years ago. Both were taught to knot by their grandmother who spent 45 years creating macrame for sale from her home, supplementing her income to allow her to raise 12 beautiful, happy and creative children!
Grandma was fond of saying:
"Art is about passing it down, pulling it through and paying it forward"
We have these words of wisdom framed and displayed in our workspace.
Share this post & the power of local to your other favorite networks:
Buy on Etsy