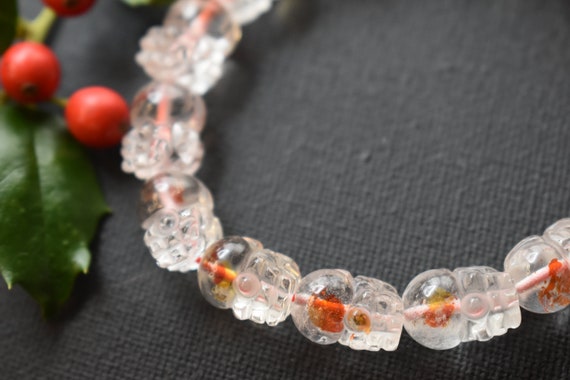 Brazilian Hematoid Crystal Pixiu Stretch Bracelet, 9mm+, High Translucency! Rare Find! Very Rare Deal! by NaturesArtUSADesigns
Brazilian Hematoid Crystal Pixiu Stretch Bracelet, 9mm+, High Translucency! Rare Find! Very Rare Deal!
Pixiu is a mythical animal; it is a symbol of prosperity and peace.
Many beads have dual colors, even single color beads are red! Least impurities!
This is a fitted 7.5 inch feel.
Associated with prosperity and luck.
Hematoid crystal is commonly found in volcanic areas. They are basically lava mud that flow into the cracks of crystals and survived the environmental conditions over time. When determining the grade of hematoid crystals, colors are of the most important factor. The more sharp and vibrant the colors, the more higher the grade. Also, red is considered more valuable than yellow. If a piece carries both red and yellow in a bead or pendant, it is considered the most valuable. Because volcanic activities can occur more than once, the least the impurities that flow into the crystal, the better. In other words, if we mention "least impurities" in the listing, it means the piece contains less to no impurities. Both our stores offer different grades of hematoid crystal pieces. The general rule of thumb is if a hematoid bracelet do not mention the origin in our store, the beads of the same grade are from different origins combined to make a bracelet. The pieces with higher prices state the origin of the bracelet and are very rare.
*The information above is a copyright of both our stores. Kindly do not copy or paraphrase. We are very aware of sellers who use our industrial knowledge for their own listings. Etsy takes cases of copyright infringement very seriously. Buyers are welcome to contact us privately for more in depth info.
Our products are natural, authentic, and go through strict quality control. Please be advised that minor potholes on the surface of products are naturally formed during the growth of the crystal. Size of crystal beads can vary slightly. Some beads may appear slightly "flat", due to the grinding process. These are part and parcel of naturally produced crystals.
We accept returns. Buyers assume return shipping cost and a restocking fee.
Please contact us if there is a problem with your shipment.
Thank you!!
Please follow us at:
www.facebook.com/NaturesArtUSADesigns/
Share this post & the power of local to your other favorite networks:
Buy on Etsy