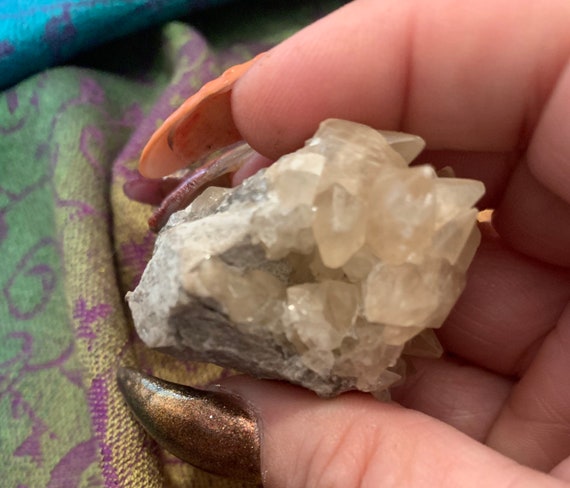 Cute Calcite cluster by MichelesGemCreations
This cute Calcite from Bloomington, Indiana has nice points. Some points have minor damage. This piece also UV's yellow. It weighs just under 2 oz and is just under 1.5 inches.
Calcite is a powerful amplifier and cleanser of energy. By simply having a specimen of Calcite in a room it will clean all negative energy and increase the households energy levels. It removes stagnant energy. Calcite is an active crystal that speeds up development and growth physically, mentally and spiritually.
Because of the variety of colours in calcite it will heal and energise all the chakras.
CALCITE AND PHYSICAL HEALTH
Calcite cleans the elimination organs such as bladder, bowel, kidneys. It helps in the absorption of calcium but also dissolves calcification that builds up on broken bones and from arthritis. Calcite strengthens the skeleton and joints. It reduces intestinal and skin conditions enabling them to heal. It increases the blood clotting ability and tissue healing. It fortifies the immune system and encourage growth in undersized children. Calcite crystal water can be used on the skin to relieve ulcers wounds and warts.
Share this post & the power of local to your other favorite networks:
Buy on Etsy