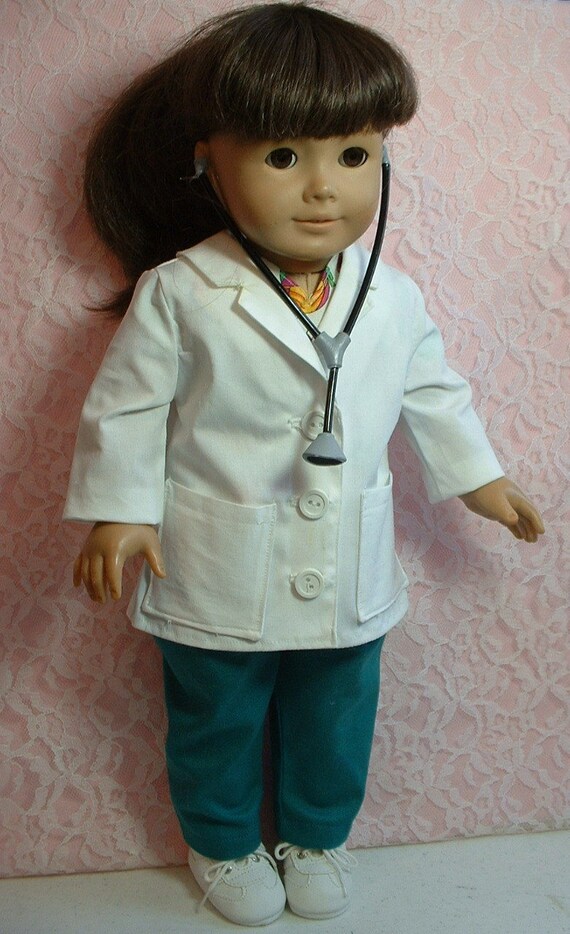 Doctor lab coat, technician coat, vet coat, 18" doll clothes, fits American Girl Doll by DollDesignsEFY
CURRENTLY OUT OF STOCK – ALLOW TWO WEEKS FOR DELIVERY
(…continued from Nurses's Scrubs….
www.etsy.com/listing/516348641/nursing-scrubs-medical-uniform-18-doll?ref=shop_home_active_2 )
Poor Dolly has a sore throat and is at the doctor's office waiting for the doctor.
Dr. Smith comes in to see her dressed in her white woven cotton/spandex lab coat. Her coat is just like a real doctor's/technician's coat with three working buttons in the front and an adjustable tab in the back. Two front patch pockets finish the look. Her comfy sneakers help keep her feet happy as she is on her feet all day. Dr. checks Dolly's heart with her plastic stethoscope.
Too bad Dolly. You have to go to the hospital to have your tonsils out. Dr. Smith will see her there for surgery. (…to be continued…)
This offering includes:
> Authentic HANDMADE lab coat made from crisp cotton/spandex fabric, with working buttons and machine made button holes. The coat can be used for doctors, vets, lab technicians, radiologists or anyone in the medical profession. There are no logos or insignias, so it is very versatile.
> Purchased sneakers and stethoscope for playtime fun.
Doll and scrubs are not included in this offering. This coat and accessories are a perfect addition to the Hospital Scrubs outfit located at this link:
www.etsy.com/listing/502417240/surgical-scrubs-gown-and-hospital-johnny?ref=shop_home_active_3
WARNING: A similar ill-fitting lab coat and scrub set is available through a couple of other ETSY shops. These outfits ARE NOT HANDMADE. They are manufactured and sold at this website: www.amazon.com/Doctor-Clothes-Complete-Medical-Stethoscope/dp/B00J7THSBY/ref=sr_1_19?m=A2ISSO3DG3RC23&s=merchant-items&ie=UTF8&qid=1531619897&sr=1-19. I have reported these listings to ETSY as a violation of their handmade policy. It is not fair to other hard working vendors on this site that these items should be allowed to be listed as handmade. It undermines the trust that our customers have in legitimate vendors who adhere to the policies and invest numerous hours and talents to provide a custom product.
Shipping
Coat is shipped on a white plastic hanger in a protective plastic bag. Ships via USPS in a padded envelope to keep weight and shipping to a minimum.
Professionally finished in pet free and smoke free space.
Share this post & the power of local to your other favorite networks:
Buy on Etsy