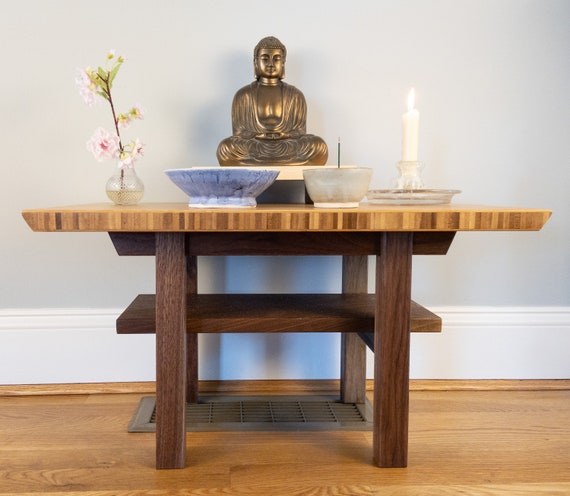 Floor Altar and riser beautifully made out of Eco Friendly Bamboo and your choice of riser. by ZenWoodwerks
Regular size Table
27 1/2 Inches Long
14 1/5 wide
13 1/2 Tall
We are very excited to offer a new design that is made out of eco-friendly materials. The top is made out of a renewable resource, bamboo. Read more about bamboo here. www.plyboo.com/products/edge-grain-bamboo-plywood
Beautiful, tranquil wood grain, smooth, clean lines, simple and purposeful design are just some of my Buddhist altars' attributes. I create them from a state of mindfulness and bring them to you with the desire to provide a beautiful reminder of simplicity. I hope the altars will become part of your meditation journey and that they will inspire you to become mindful, compassionate, and peaceful. The finish I apply is Rubio Monocoat, which contains no toxic chemicals, EcoConscious, and is plant-based & 100% VOC free. This finish provides a buttery smooth surface, matte sheen and easily repairable if damaged. Yes, it cost quite a bit more than other products but well worth it that you will notice with one touch to the surface.
Please check out our store I am sure we have an Altar that fits your needs.
Natural Wood's Beauty and color variations.
Wood is a natural product. Maybe it goes without saying, but it is important to note that because wood is a natural product, that means each piece of wood is unique. This includes coloring and variations within that coloring. Natural hardwood boards vary in color from board-to-board. Every piece you get is different. This variation is part of the wood's beauty and it is normal. Many factors affect the color of the board: the species of the tree, where the tree grew and the local climate, when the tree was felled, how it was sawn and dried, when or if it was milled, for how long it was stored, how the wood accepts the stain. With so many variables to consider, it is understandable then that you may notice differences in color and grain as well as imperfections that make each board unique
Altar size
Shipping to the contiguous US.. If you live in Hawaii or Alaska please send me a message so I can figure out your shipping cost.
If you add one of the Buddha risers, they are 10" long X 5 1/2 " wide X 2 1/2 " in height.
Share this post & the power of local to your other favorite networks:
Buy on Etsy