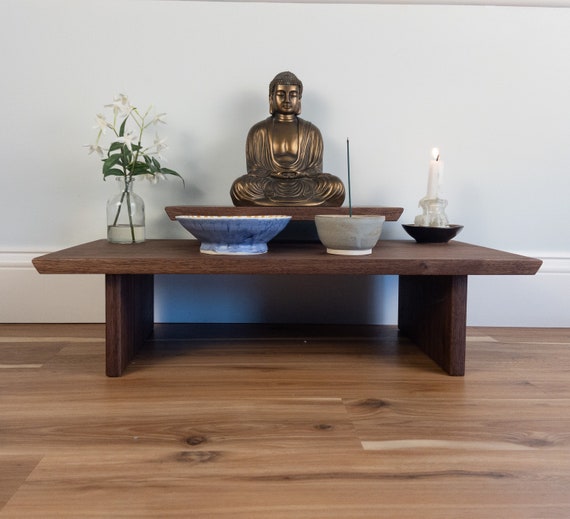 Floor Altar Beautifully Handcrafted Walnut Wood base and riser. by ZenWoodwerks
The wood in this listing is Walnut. I have more listing with other wood choices.
My altars are made using time-tested joinery and made to last a lifetime. Beautifully handcrafted clean. The finish I apply to is Rubio Monocoat, which contains no toxic chemicals, is EcoConscious, and is plant-based & 100% VOC free. Hand rubbed finish provides a buttery smooth surface, matte sheen, and is easily repairable if damaged. Yes, it cost a bit more than other products but is well worth it that you will notice with one touch to the surface.
Please check out our store I am sure we have an Altar that fits your need..t
Base: 24L x 12 W x 6h
2nd Tier: 14L x 6W x 2 1/4 H
Altar with 2nd total height is 8 1/4 inches
Shipping to the contiguous US.. If you live in Hawaii or Alaska please send me a message so I can figure out your shipping cost.
Natural Wood's Beauty and color variations.
Wood is a natural product. Maybe it goes without saying, but it is important to note that because wood is a natural product, that means each piece of wood is unique. This includes coloring and variations within that coloring. Natural hardwood boards vary in color from board-to-board. Every piece you get is different. This variation is part of the wood's beauty and it is normal. Many factors affect the color of the board: the species of the tree, where the tree grew and the local climate, when the tree was felled, how it was sawn and dried, when or if it was milled, for how long it was stored, how the wood accepts the stain. With so many variables to consider, it is understandable then that you may notice differences in color and grain as well as imperfections that make each board unique.
(Items on the Altar not included)
Guides to setting up Altar
Most of us cannot afford a separate room for zazen, but all of us can make a corner sacred. Put your pad and cushion there, with a low table or shelf for incense, flowers, and a picture of Shakyamuni, Bodhidharma, Kanzeon, or one of the other great bodhisattvas or teachers in our lineage. The room should be clean and tidy, without too much sunlight, though, of course, it should not be gloomy either. The spirit of religious dedication that is so apparent in the atmosphere of a training center can thus be evoked in your own home and in your daily life. On the one hand, this religious setting should be spare—free from sentimental feeling that leads to self-preoccupation. The incense, for example, should not be sticky-sweet. On the other hand, your sitting for zazen should not be so arid that it has no religious associations. Some people find incense and pictures of the Buddha to be a threat to their rational spirit. But we most certainly cannot depend solely upon our rationality.
Incense, pictures, and flowers help to put us in touch with the wellsprings of the universal spirit, drawing us to the oneness with our heritage and with our sisters and brothers that we already know intellectually to be the fact of our practice. They help us to establish meaningful archetypes of compassion and realization in our innermost being. Without such aids, zazen may become just a kind of pop psychology exercise, on a level with books devoted to positive thinking.
From Taking the Path of Zen by Robert Aitken, © 1982 by Diamond Sangha. Reprinted with permission of Farrar, Straus, and Giroux.Straus, and Giroux.
Share this post & the power of local to your other favorite networks:
Buy on Etsy