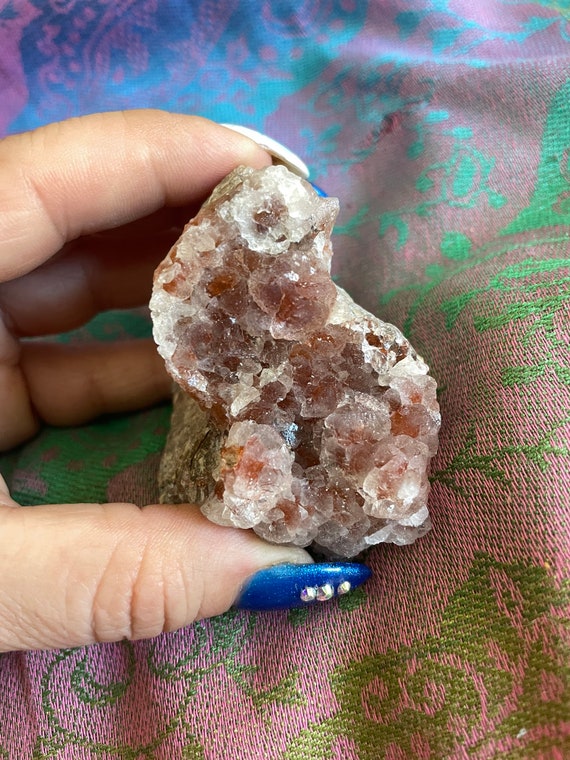 Funky red and white calcite cluster by MichelesGemCreations
This stunning red and white Calcite Cluster from Chihuahua Mexico has a gorgeous array of beautiful white calcite tips with a nice red phantom. I believe there is fluorite as well on this piece. This piece UV's purple This piece is approximately 2 inches long and is 4.2 ounces. This piece also UV's white and a touch of purple. Cal29
Calcite Associations
Zodiac – Cancer
Numerical Vibration – Number 8
Typical colours – White, Yellow, Red, Orange, Blue, Green, Brown, Grey
 
Healing with Calcite
♥ Deepen intellect ♥ Memory ♥ Wisdom ♥ Psychic abilities ♥ Spirituality ♥ Astral projection ♥ Channeling ♥ Higher Consciousness

Calcite is a powerful amplifier and cleanser of energy. It cleans negative energies from the environment. It brings forth a polarising prismatic energy, which engenders a spectrum of energy to clear and to activate all of the chakras. Calcite is a spiritual stone that facilitates the opening of higher consciousness and psychic abilities. It helps mind and body to remember soul experiences.
Share this post & the power of local to your other favorite networks:
Buy on Etsy