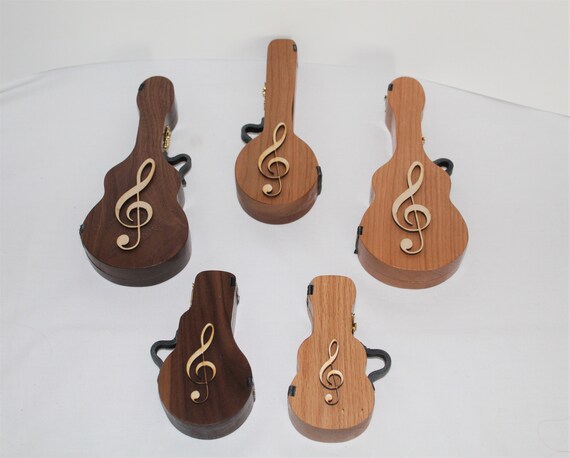 Guitar, Banjo, Uke, Mando Pick Case; Pick Boxes for Musician; Gift for Musician; G-Clef Trinket Box; Anniversary Birthday Gift for Vocalist by lureofcripplecreek
Overlaid with a wood laser cut out G-Clef design, these boxes make a unique musically inspired gift item. The wooden pick cases are available in 4 designs: Guitar, Banjo, Mandolin & Ukulele. Individually hand made of solid wood and felt lined, they can easily be stored in your instrument case (excludes ukulele) or left out on display in your home. Each case has a decorative brass clasp and leather hinges & handle. These are a great way to keep all your picks in one place!
Perfect for gift giving they are a unique keepsake trinket box for any musician. Ideal for celebrating 5th (traditional), 6th (modern) or 7th (desktop) anniversaries. They add a personalized touch as a wedding party gift and can be used as a wedding ring holder. Perfect for Mother's Day too!
Order of instruments in photos: Guitar, Dobro, Banjo, Ukulele and Mandolin
Available in choice of woods Cherry, Black Walnut and Oak as shown in the order of the pictures showing the single instrument.
The cases are clear coated not stained to show the beauty of the wood grain. All wood varies in the shades and grains and can be lighter or darker than shown in the pictures.
The Guitar holds approximately 30 picks. The Banjo Pick Case can several sets of finger picks depending on the size of the picks. The Mandolin and Ukulele Pick Case holds approximately 12 picks.
Approximate Size:
Guitar 7.25" X 4.50" X 1.25"
Banjo 7.25" X 2.75" X 1.25"
Mandolin 5.00" X 2.75" X 1.25"
Ukulele 5.00" X 2.50" X 1.25"
MAKING THE CASES:
I start out by cutting the pick cases in batches not one at a time. The shipping time varies depending on how far along the process is when you place the order. I do not post an available wood until it is rough cut. Pick Cases ship for free. Returned or exchanged item may require postage.
FOREIGN PURCHASES:
If your country is not listed below the shipping charges will be determined on an individual basis depending on destination. We recommend ordering at least 3-6 weeks in advance. We ship US Postal Service and most items leave the US within 3-5 days. The designated country delivery date depends on that postal service. Some countries require up front collection of fees and taxes, others do not. Please be aware of your country's requirements as we are not responsible for any additional fees or taxes levied by the recipients country.
Share this post & the power of local to your other favorite networks:
Buy on Etsy