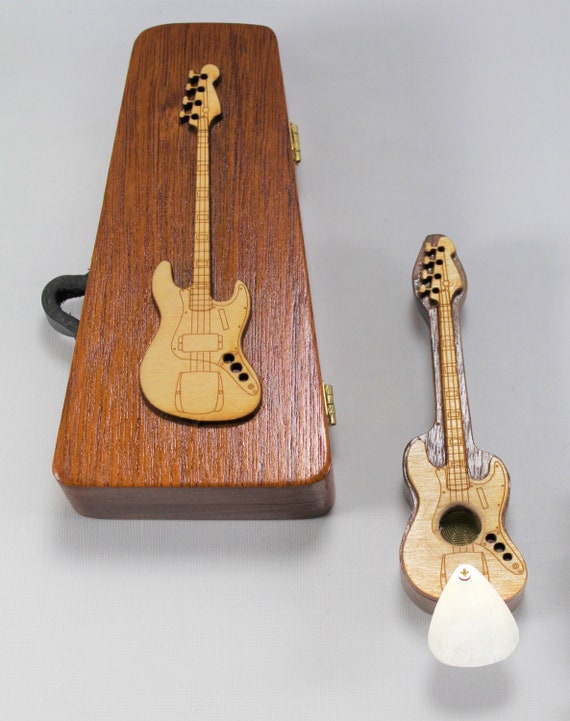 Guitar Pipe & Case Gift Set Musicians; Electric and Acoustic Smoking Accessory; Christmas Holiday Anniversary Birthday Anytime Gift for Dad by lureofcripplecreek
Acoustic & Electric Guitar Pick Cases with Matching Instrument Pipe. Also available with or without matching pipe.
Not only are these a great way to keep all your picks in one place but they make a wonderful gift set with a matching pipe!
Made of Solid Black Walnut Wood both the acoustic and electric guitar pick cases are available in 5 different instrument designs. Choose from 2 Acoustic designs, the Electric Bass, or 2 different Lead Electric Guitars.
These sets are a unique gift & a great conversational piece!
The cases easily fit picks, pipe and other small necessities (see last photo).
Without the matching pipe the cases are versatile and can easily store golf tees, jewelry or use as a trinket box for small items.
Amazing souvenir for musicians and an addition to anyone's collection.
Ideal for celebrating 5th (traditional), 6th (modern) or 7th year (desktop) anniversaries.
The sets are discounted $6 from the individual pricing.
Case:
Individually hand made of solid wood and felt lined, they can easily be stored in your instrument case or left out on display in your home. Finished with a decorative brass clasp and hinges with a handmade leather handle.
The cases are clear coated not stained to show the beauty of the wood grain.
Each pick holder is 5.75 inches long and 1.25 inches in height. They open to a depth of .75 inches. Ideal for holding dozens of picks!
*****All wood varies in the shades and grains and can be lighter or darker than shown in the pictures. All cases are made of solid Black Walnut
Pipe:
Made of solid wood each pipe is individually hand cut a with a matching overlay of a laser engraved instrument and clear coated. The inside of the bowl is unfinished (chemical free) and has a rotating stainless steel guitar pick as a lid. Guitar body is solid black walnut and all styles of instruments are 4.5 inches in length. Brass Screen is included.
This product is intended for legal use only or as a novelty item. You must be 21 years of age or older to purchase this item.
Share this post & the power of local to your other favorite networks:
Buy on Etsy