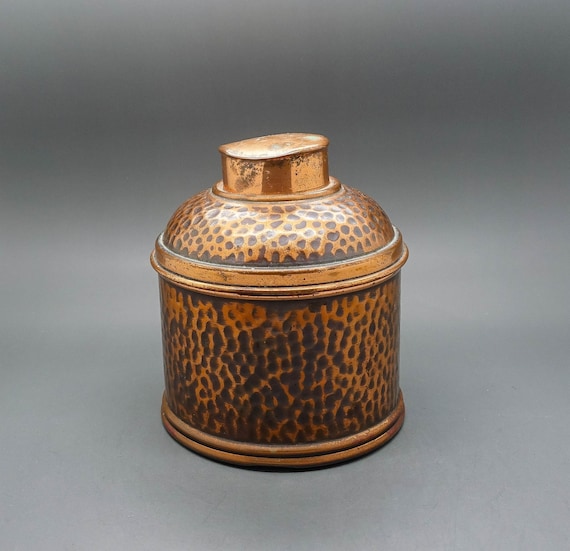 Hammered Copper / Tin Rumidor Style Tobacco / Cigar Humidor Tin – Estate Piece by Grandmasvintagepipes
This cool canister is a Rumidor style Tobacco Humidor. I believe this one was for cigars given the separator contained inside the tin (these separators are very hard to find in the cigar humidors). This humidor tin is in good condition and has good color to it. I'm not sure what this one is made of, it looks like tin to me and the exterior is hammered copper with awesome patina. This one does not have an internal humidifier (it doesn't appear that it ever did). The top handle has some denting but definitely gives it a cool aged look. Overall, this piece is nice and in fair estate condition (give the denting). The inside is not ghosted with any scent. This is a great piece for your baccy, cigars or any other tobacco products or simply as a cool display piece all on its own..
The item: Hammered Copper / Tin Rumidor Style Tobacco / Cigar Humidor Tin – Estate Piece
Overall Height: 5.0"
Width: 4.5"
As we are only allowed to put up a certain number of pictures this sometimes does not allow for you as the potential buyer to see everything. If you would like to see additional pictures please just ask as I take a ton of pictures prior to posting.
Shipping:
I will ship this item via USPS Priority Mail (cost is $11.00 for shipping in CONUS and will arrive in 2-3 business days). If I can send it for cheaper, I will refund back the difference. I will normally ship either same day or next business day. If there is a need for faster shipping, please contact me for a quote.
Share this post & the power of local to your other favorite networks:
Buy on Etsy