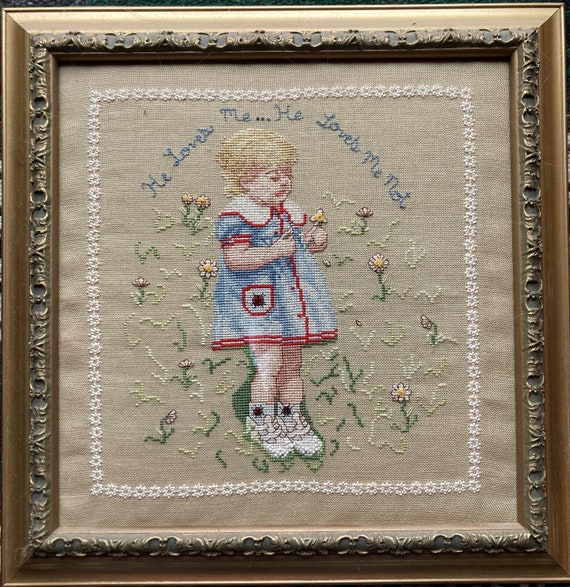 He Loves Me. . .He Loves Me Not Counted Cross Stitch Design by TreasuredTapestry
Treasured Tapestries
"He Loves Me. . .He Loves Me Not" Copyright 2002 – Dianne Durgan, All Rights Reserved, Treasured Tapestries
A precious little girl enjoys playing 'He loves me. . .he loves me not' in a field of daisies. The petals fall from her hands as she drops them one by one.
Design Size:
10.50 inches wide x 11.07 inches height
Design Count: 147 wide x 155 height
Fabric Cut Size: Allow 3 inches extra on all sides for framing/finishing (this will add 6" total to your width and height)
Model Stitched on:
Fabric: 28 ct Prairie Grain Linen from Wichelt Imports, Inc. www.wicheltimports.com (14 ct Aida may be substituted)
DMC Floss provided by The DMC Corporation www.dmc.com
Mill Hill Petite Beads provided by Mill Hill Beads www.millhillbeads.com
Stitched 2 over 2 threads on Linen (or over 1 square on Aida)
STITCHES USED:
Cross Stitch
3/4 Cross Stitch
Backstitch
French Knot
Blended Needle
Eyelet Variation (Border)
Lazy Daisy
Beads (shoes)
Design printed on 6 ct grid for easy reading.
Share this post & the power of local to your other favorite networks:
Buy on Etsy