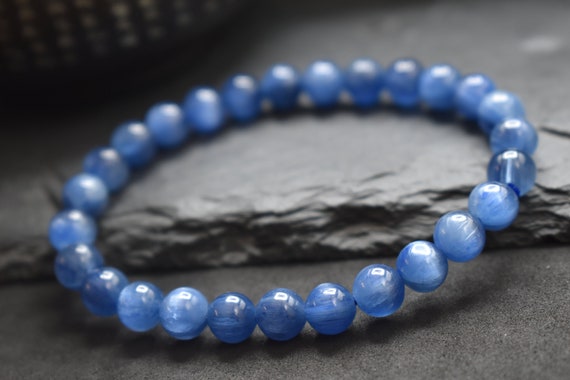 High Grade Cat's Eye Kyanite Stretch Bracelet, 7mm+, Comes with Certificate! 100% Natural! Rare Deal! by NaturesArtUSADesigns
High Grade Cat's Eye Kyanite Stretch Bracelet, 7mm+, Comes with Certificate! 100% Natural! Rare Deal!
Many kyanite bracelets are dyed; especially if their colors are too even and vibrant. This bracelet is 100% natural.
Excellent stone for meditation. Kyanite will not retain negative vibrations or energy – never requires clearing. It also aligns all chakras, providing balance of yin-yang energies, and is a calming stone.
Please note that a certificate of any sort does not lists the grade or origin of an item or if they are treated. Larger certification centers will provide a cert for ALL items except for dyed ones. Some smaller centers even have ways around this by stating it in the "remark" section of the cert. Ultimately, the grade and origin of items, and the treatments they go through (if any), will depend on the suppliers' and sellers' knowledge and their willingness to honestly disclose them. Do not hesitate to contact us for more info on certification and grading processes.
*The information above is a copyright of both our stores. Kindly do not copy or paraphrase. We are very aware of sellers who use our industrial knowledge for their own listings. Etsy takes cases of copyright infringement very seriously. Buyers are welcome to contact us privately for more in depth info.
Certificate is in Chinese with the exact picture of the bracelet.
Our products are natural, authentic, and go through strict quality control. Please be advised that minor potholes on the surface of products are naturally formed during the growth of the crystal. Size of crystal beads can vary slightly. Some beads may appear slightly "flat", due to the grinding process. These are part and parcel of naturally produced crystals.
We accept returns. Buyers assume return shipping cost and a restocking fee.
Please contact us if there is a problem with your shipment.
Thank you!!
Please follow us at:
www.facebook.com/NaturesArtUSADesigns/
Share this post & the power of local to your other favorite networks:
Buy on Etsy