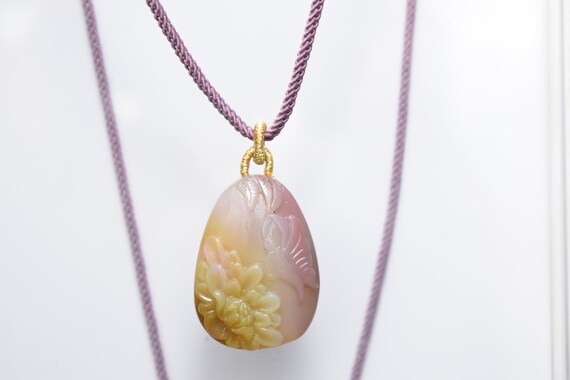 High Grade Yan Yuan Agate Peony and Butterfly Pendant, Very Rare! Hand Crafted! High Quality! Rare Deal! by NaturesArtUSADesigns
High Grade Yan Yuan Agate Peony and Butterfly Pendant, Very Rare! Hand Crafted! High Quality! Rare Deal!
*Detailed dimensions are in the last few pictures of the listing.
This piece has at least 3 colors, which is very rare and valuable (please read the info below).
Cord is approximately 22 inches at its longest. Adjustable.
The peony is known as the "queen of flowers" or "flower of riches and honor".
Brings luck and peace and promotes self-love with calming energy.
A couple of factors affect the grade of yan yuan agate, and that ultimately affects prices: 1. Color, 2. Translucency, 3. Crafting, 4. Finishing, 5. Mixing of beads with old and new mine yan yuan, 6. Baking of the agate.
1. Like tourmaline, colors are the most important aspect of yan yuan. White or opaque yan yuan will almost always be cheaper in price by weight compared to pieces with colors. If a pendant or the majority of beads in a bracelet carries 2 or more colors/tones, the grade is considered high. In the case of bracelets, if the majority of beads do not have dual colors/tones or more, but have many rare colors or a variety of colors, the grade is also considered high.
2. Unlike crystals, the least translucency to the naked eye means the agate is "full of meat". This is also another factor that determines the grade. The lesser the translucency to the naked eye, the higher the grade. A lot of times, an exception to this rule is with rare colors.
3. Crafting or engraving is also a signature of yan yuan. Whether a piece is crafted by an experienced crafter or a student crafter, is an important factor that ultimately defines the grade, and essentially affects the price. The more detailed the crafting, the higher its grade. In addition, when there are limited edition crafting (because some designs are not easy to craft), they are released in limited quantities.
4. Yan yuan agate often combines matte and regular polishing, or uses one of these techniques to finish the product. Whatever method is used, the finishing is very important. The details on the pieces have to maintain its crafting details after the finishing.
5. As yan yuan agate continues to hike in prices, there are mixing of old and new mine yan yuan in bracelets. This affects prices dramatically. New mine yan yuan is from Africa. It is translucent in its nature and is very cheap compared to old mine yan yuan.
6. With prices increasing, there are also many pieces that are baked to make colors more vibrant.
For a stone that has so many impurities in its raw material, there are not many pieces that make it to the high grade category in general.
*The information above is a copyright of both our stores (please do not copy and paste OR paraphrase).
Our products are natural, authentic, and go through strict quality control. Please be advised that minor pitting on the surface of products are naturally formed during the growth of the stone. Natural inclusions on and within stones are inevitable. Size of beads can vary slightly. Some beads may appear slightly "flat" due to the grinding process. These are part and parcel of naturally produced crystals and stones.
We accept returns (excluding changes in design and/or wrist size). Buyers assume return shipping cost and a restocking fee.
Please contact us if there is a problem with your shipment.
Thank you!
Please follow us at:
www.facebook.com/NaturesArtUSADesigns/
Instagram: @naturesartusadesigns
Share this post & the power of local to your other favorite networks:
Buy on Etsy