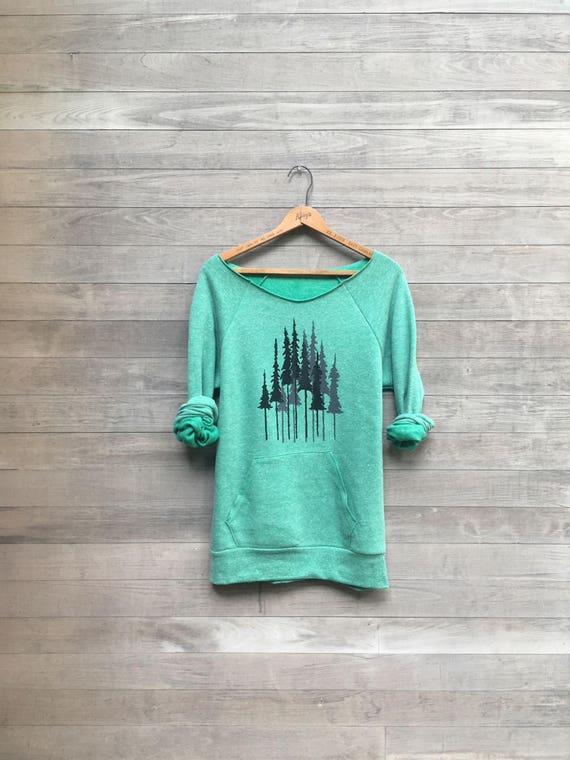 Into the Forest i go Hiking Shirt, Pine Trees Sweatshirt, Gift for a Nature Lover, Forest Shirt, Green Sweater, Cozy Sweatshirt by nicandthenewfie
I print Evergreen Trees in black and grey ink onto a Super Soft Sweatshirt that has a wide, raw edge neck, made with organic cotton, recycled poly and rayon. The sweater is soft, comfy and flirty. Each order is hand printed one at a time in my small, 2 person studio. We use hand drawn screens and print with non toxic, water based inks. All packaging is made with 100% recycled material.
I've always loved nature and taking walks in the woods, so this design is really a true representation of me as a person. i love walking because the slow pace of things lets me take in what is happening around me. when i run, i get a different high and a different experience, but walking is a real way into your soul. well, as long as you don't have your ear buds in! this top is meant for all those nature lovers- the people who feel at peace when surrounded by big trees, bushes and wild animals- the people who will hike in all types of weather, just to be outside. take this top on your outdoor adventure and it will keep you cozy while you trek your next miles!
………………………………………………………..
SIZING INFO – please size up if you want a loose, oversized fit
………………………………………………………..
INCHES
Xsmall: Chest- 30-32" + Length- 23"
Small: Chest- 33"-34" + Length- 24"
Medium: Chest- 36"-38" + Length- 25"
Large: Chest- 40"-42" + Length- 26"
XLarge: Chest- 42-44" + Length- 27"
CENTIMETERS
Small: chest- 84-86 + length- 61
Medium: chest- 91-96 + length- 63
Large: chest- 102-107 + length- 66
XL: chest- 107-112 + length- 68
i'm wearing the medium in the photos. i'm 5'7", 140 lbs and 35" bust
shop policy: because i hand print each order once it is placed, sales are final but exchanges for any reason are welcome as long as the clothing has not been worn, washed or altered.
Share this post & the power of local to your other favorite networks:
Buy on Etsy