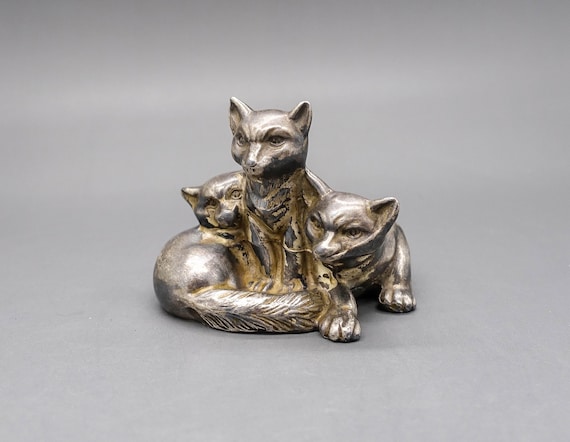 Jennings Brothers Charm of Foxes Figurine Estate Piece – Paperweight, Display Piece, Pipe Holder by Grandmasvintagepipes
I just love these old metal pieces. This one is a metal figurine depicting a charm of foxes. I have seen this one made by several of the different foundry companies of the early century (Jennings Brothers, Weidlich, K&O) This one is stamped as JB 1432 (Jennings Bothers) . Although not dated to a specific period, I am guessing early to mid-century. Jennings went out of business in the early 1950's, so it is definitely earlier than that. While you can use it as a display piece, paperweight, or whatever, you know that I love using these to prop up pipes. This piece is excellent to that effect, with its groves and facets on the foxes heads (see the pictures). It is silver colored shiny metal; I think it may be silverplate. It is not magnetic, and the base feels heavier than the rest of the pieces. Overall, it is a cool piece with tons of character and patina. Enjoy this antique in your collection.
The Jennings Bros. MFG. Co. JB Copyrighted. The Jennings Brothers operated their foundry in Bridgeport Connecticut from 1891-1950s. They produced art metal pieces such as reproduction statues, bookends, and candlesticks. These pieces were not mass produced but required the work by expert artists and metal craftsman. The Jennings Brothers pieces are made of cast white metal or spelter, not bronze. Later the Philadelphia Manufacturing Company purchased the Jennings Brothers molds in the 1960's. This piece came from the original family who had the piece in their collection for over 50 years.
The item: Jennings Brothers Charm of Foxes Figurine Estate Piece – Paperweight, Display Piece, Pipe Holder
Overall Height: ~2.15"
Width: ~2.75"
Length: 2.25"
Weight: 7 ounces
Shipping:
To try and keep shipping costs to a minimum, this item will ship standard first class or equivalent. It may take a little longer, but it will keep the cost lower (cost is $5.00 for shipping in CONUS and will arrive in 3-5 business days. I will normally ship either same day or next business day. If there is a need for faster shipping, please contact to change to Priority Mail ($9.00) prior to purchasing.
Share this post & the power of local to your other favorite networks:
Buy on Etsy