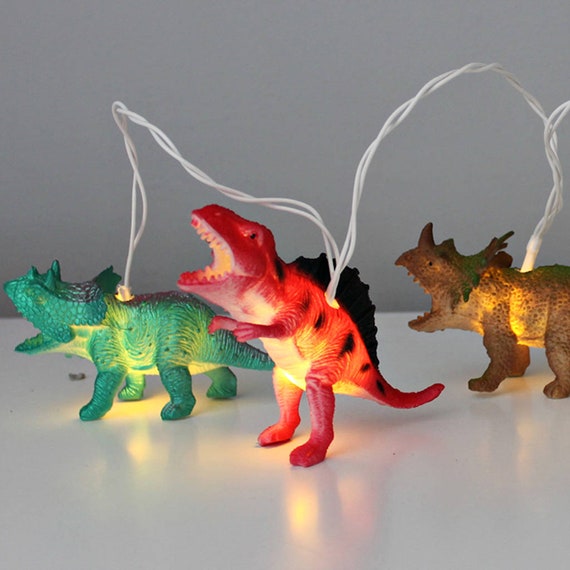 Kids Room Dinosaur Decor LED String Lights by BohoGrow
💠Free Shipping To USA💠
New for 2021 – LARGER 20PC Dinosaur String Light SET!
This led string light set features a total of 12 led dinos – six bright dinos hatching from eggs AND six different full size luminous dinosaurs, from Tyrannosaurus Rex to Stegosaurus, to the little-known turtle (with a spiny tail!)
Choose Between the 8PC Dinosaur String Light Set, the 12PC Dinosaur String Light Set , 12PC Dinos with Hatching Eggs Set or the 20PC set.
NEW For 2021 – See our listing for Safari Animal String Lights: www.etsy.com/listing/928646191/safari-jungle-animals-kids-room-led
There are 8 or 12 or 20 colorful dinosaurs including a triceratops, T-Rex and Stegosaurus.
Powered by 3AA Batteries
8PC and 12PC are Approx. 6 FT long while the 12PC Dinos with Hatching Eggs are 8 FT long and the 20PC Dinos are 10ft Long.
All sets are battery operated.
*The dinosaurs never get hot so they work well in nurseries and kids rooms.*
We designed these 'Dino'-mite string lights and LIT in NYC created them to our specifications for a look book kids room shoot we did last year.
We had so many people ask about them that we decided to add them to our product line!
Share this post & the power of local to your other favorite networks:
Buy on Etsy