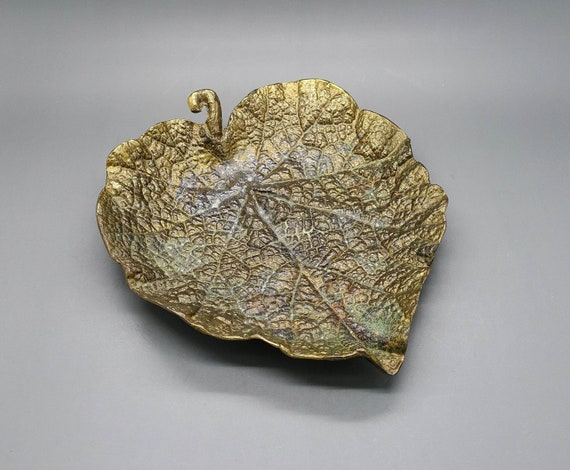 Large Brass Leaf Estate Ashtray / Pipe / Cigar / Holder / Rest / Stand by Grandmasvintagepipes
Her we have a cool piece for you. This one is a beautiful large brass leaf shaped ashtray. It has a great patina and a nice craggy pattern to it. The softening the brightness of the brass and the green/blue patina finish is that which only comes with age. This one works excellent as a cigarette ashtray or cigar rest and as you can see, even a pipe rest… I suppose it has other uses as well but is up to your imagination. This piece is heavy (1 pound 9 ounces) and it has great relief with the leave veins. This big leaf has weight enough to make it a very stable platform for whatever you chose to use it for.
The pipes/cigars pictured are not included in this sale but if you see something you like please contact me for pricing.
The item: Large Brass Leaf Estate Ashtray / Pipe / Cigar / Holder / Rest / Stand
Overall Length: ~8.0"
Width: ~7.10"
Height: ~2.0"
Weight: 25 ounces
Shipping:
I will ship this item via USPS Priority Mail (cost is $11.00 for shipping in CONUS and will arrive in 2-3 business days). If I can send it for cheaper, I will refund back the difference. I will normally ship either same day or next business day. If there is a need for faster shipping, please contact me for a quote. I do not list shipment for overseas but will do on a case by case basis. If you have this interest, please contact me for a specific quotation on shipping.
Share this post & the power of local to your other favorite networks:
Buy on Etsy