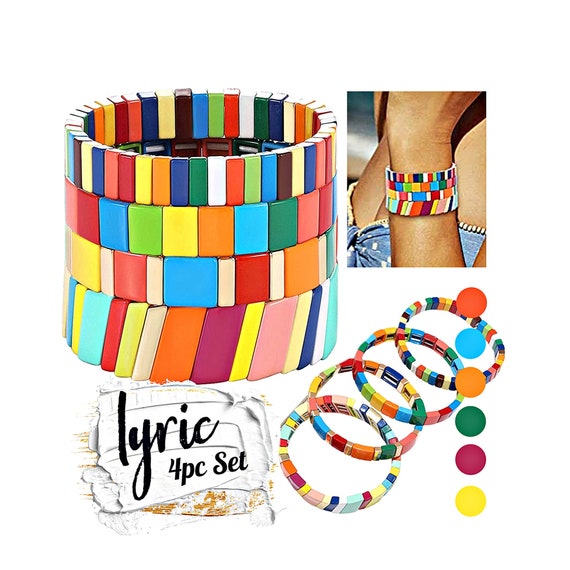 Lyric Geometric Color Block Tiles Stackable Bracelets Set by BohoGrow
♥‿♥ Free Shipping To USA ♥‿♥
Our colorful enamel block stretch bracelets come in various shapes and a rainbow 🌈 of colors.
The collections are designed with geometric enamel tiles and stretch to fit.
See our other collections to mix and match shapes and colors to create your own fashion statement!
Bracelets Range From .25" Wide to 1.25" Wide
➤Bracelets will hug your wrists tightly upon first wear and stretch slightly over time.
➤No two bracelets will ever be the same as these are hand strung – colors/order will be different.
➤We include elastic string so you can restring your bracelets to change it up or add colors etc.
➤Bracelets are crafted on 7" Wrist Model
➤We acrylic paint dip, dry and clear coat the blocks so very tiny imperfections/scratches may be visible on some tiles
➤ Stretch To Fit
➤ Enamel – No Nickel or Lead – Completely Safe For Sensitive Skin
➤ Made Here In The USA
➤ Mix, Match & Layer To Match Your Outfits!
Share this post & the power of local to your other favorite networks:
Buy on Etsy