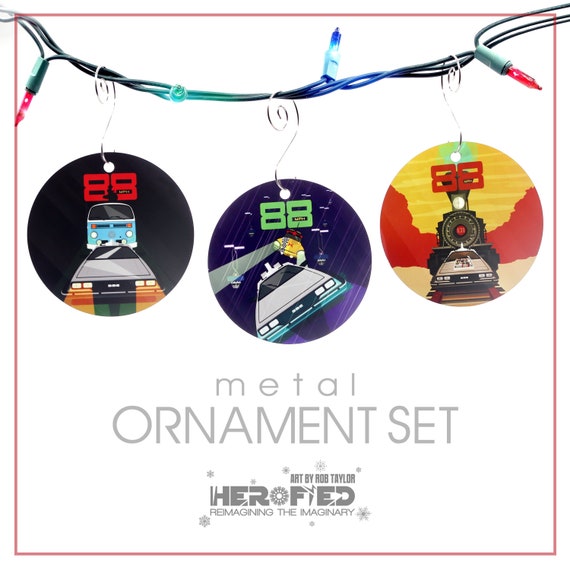 Metal Ornaments – Back to the Future / 3 Metal Ornament Set / 3"X3" / Art by Herofied by Herofied
I am pleased to introduce my new METAL Ornaments to you! This listing includes 3 of my Back to the Future designs – one for each movie. These are meant to be displayed as a set (which is discounted) but I am also offering them individually as well.
Vivid images are printed on a round, thin-but-sturdy aluminum disc. The image is *not* mounted/glued to the metal, the ink is embedded into the metal using high heat and pressure – the same process used for my larger metal prints. Extra UV coating was applied to make them suitable for indoor and outdoor use. All ornaments will be signed on the back by myself as the artist and dated. Exposed metal/silver-colored back. Because I know many of these will be gifted, I am Individually packaging each piece in a clear bag containing the ornament, a piece of cream colored shimmery card stock backing with my Herofied logo, and a metal "s-swirl" ornament hook. I am making each one of these pieces personally, so they will be the perfect unique gift that you can't find anywhere else. 🙂
I hope you love this brand new way to enjoy my artwork this holiday season!
Share this post & the power of local to your other favorite networks:
Buy on Etsy