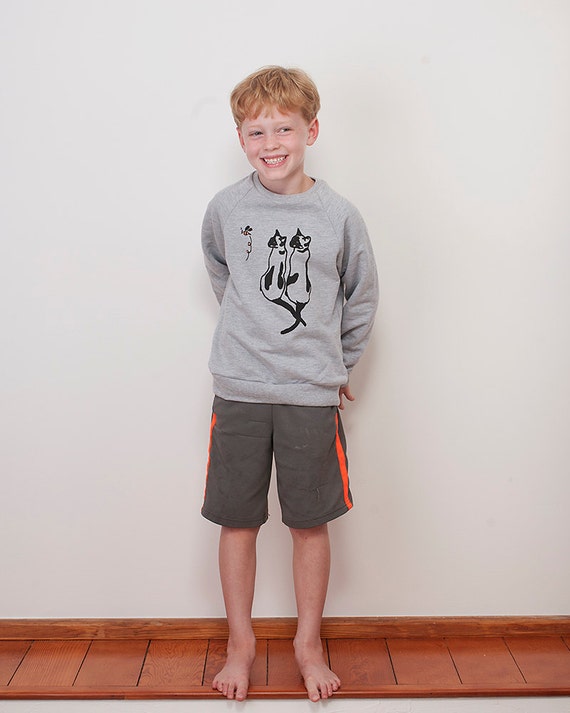 my little twin Siamese Top, Kitty Sweatshirt, Gift for a girl, 2T-12 by nicandthenewfie
UNISEX SWEATSHIRT
this super soft fleece sweatshirt has been hand printed in our studio using non- toxic inks. BLACK Siamese Kitties are printed onto a GREY american apparel sweatshirt.
Design is called: My Little Twin (hand drawn and hand printed by Nicola)
GIFT WRAP OPTION- available at checkout for $5. Handprinted Gift Wrap with red string and to/from card (i can include a very short message) SEE LAST PICTURE ABOVE
SIZES AVAILABLE:
NOTE: these sweatshirts do run small so sizing up is suggested, especially for boys.
2 Years: (weight= 31-34 lbs……height= 32"-36"…….chest= 21")
4 Years: (weight= 35-41 lbs……height= 36"-40"…….chest= 22")
6 Years: (weight= 42-45 lbs……height= 40"-43"…….chest= 23")
8 Years: (weight= 49-52 lbs……height= 48"-50"…….chest= 26")
10 Years: (weight= 54-62 lbs……height= 51"-54"…….chest= 27")
12 Years: (weight= 62-75 lbs……height= 55"-59"…….chest= 28")
Share this post & the power of local to your other favorite networks:
Buy on Etsy