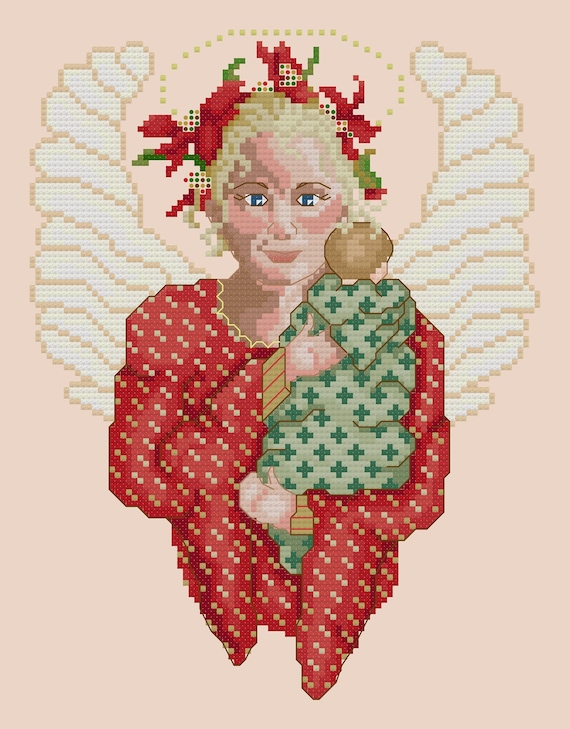 Nicky's Angel Counted Cross Stitch Design by TreasuredTapestry
Treasured Tapestries
"Nicky's Angel" Copyright 2001 – Dianne Durgan, All Rights Reserved, Treasured Tapestries
A lovely design originally used for the Angel Quilt Project in the 2000's. The Angel Quilt Project was founded on January 27, 2000 by James Farmer of Mississippi. It is a non-profit group of stitchers from around the world that make hand-made blankets which are then given to hospitals in the United States, Canada, and the United Kingdom that have either Neonatal Intensive Care Units or Special Care Baby Units for families with premature babies. If you would like to contribute, please see website link below: www.cyberstitchers.com/announcements/calling_all_stitchers/the_angel_quilt_project
And, the Facebook Page at link below:
www.facebook.com/groups/angelquilt
Design includes instructions for:
Hair / Skin Color variations for Caucasian & different nationalities
Eye color variations for dark brown, brown, red/brown, green, hazel
Color variations for a deep blue Angel's dress & deep blue flowers in Angel's hair
Color variations for soft yellow Baby's blanket.
Stitches used:
Cross Stitch
3/4 Cross Stitch
Backstitch
French Knot
Model Stitched on:
Fabric: 32 ct Mushroom Linen by: www.wicheltimports.com (16 ct Clay or Tan Aida may be substituted) Or, any fabric color of your choice.
Stitched 2 over 2 threads on Linen (or over 1 square on Aida)
DMC Floss provided by The DMC Corporation www.dmc.com
Kreinik #4 Very Fine Braid provided by The Kreinik Corp www.kreinik.com
Fabric Cut Size: Allow 3 inches extra on all sides for framing/finishing (this will add 6" total to your width and height)
DESIGN COUNT:
90 wide x 118 height
DESIGN SIZES:
28 ct Linen (14 ct Aida) – 6 3/8 inches wide x 8 3/8 inches height
32 ct Linen (16 ct Aida) – 5 5/8 inches wide x 7 3/8 inches height
Design printed in a 6 ct grid for easy reading.
Share this post & the power of local to your other favorite networks:
Buy on Etsy