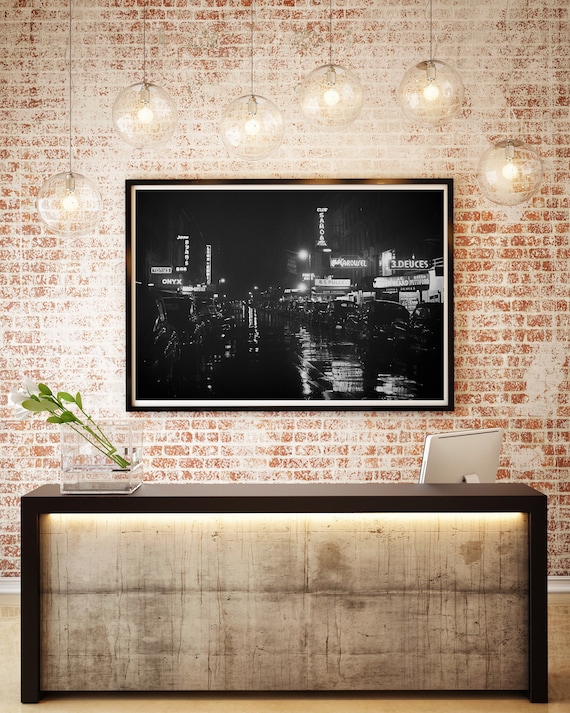 Old New York City Jazz Clubs Photo, Black and White, Neon Lights, Rainy Night, 1930s Nightclubs, NYC by HistoricalPix
Following the repeal of Prohibition in 1933, 52nd Street replaced 133rd street as "Swing Street" of the city. The blocks of 52nd Street between Fifth Avenue and Seventh Avenue became renowned for the abundance of jazz clubs and lively street life. The street was convenient to musicians playing on Broadway and the 'legitimate' nightclubs and was also the site of a CBS studio. Musicians who played for others in the early evening played for themselves on 52nd Street.
In its heyday from 1930 through the early 1950s, 52nd Street clubs hosted such jazz legends as Miles Davis, Harry Gibson, Dizzy Gillespie, Billie Holiday, Nat Jaffe, Marian McPartland, Thelonious Monk, Charlie Parker, Louis Prima, Art Tatum, Fats Waller, Trummy Young, and many more. Although musicians from all schools performed there, after Minton's Playhouse in uptown Harlem, 52nd Street was the second most important place for the dissemination of bebop;. In fact, a tune called "52nd Street Theme" by Thelonious Monk became a bebop anthem and jazz standard. Virtually every great jazz player and singer of the era performed at clubs. [Wikipedia]
Hours are spent cleaning each picture using professional software. This includes removing dust, scratches and optimizing the exposure for printing while enhancing the original details.
DETAILS
– Most prints are standard photo sizes (8×10, 11×14, 16×20, 20×24, 24×30, 24×36) including a quarter inch border for matting and framing.
– For framing ideas, visit my Pinterest Store at www.pinterest.com/HistoricalPixPrints/photo-framing-ideas/.
– Looking for a specific photo, or customization? Please let me know and I may be able to provide it for you.
– Need a really large print? I can do that! DM me!
– All prints come unframed.
FREE SHIPPING!
I ship quickly and safely – your print will arrive in a rigid mail tube. I ship First Class or, you can choose Priority. First Class can sometimes take up to 3.5 weeks to deliver (mostly during the holidays or severe weather). If you need a print for a gift, or holiday and timing is important, I would recommend upgrading to Priority (2-3 days, insured and tracked).
Visit www.etsy.com/shop/HistoricalPix to see even more fun prints!
Thank you!
Share this post & the power of local to your other favorite networks:
Buy on Etsy