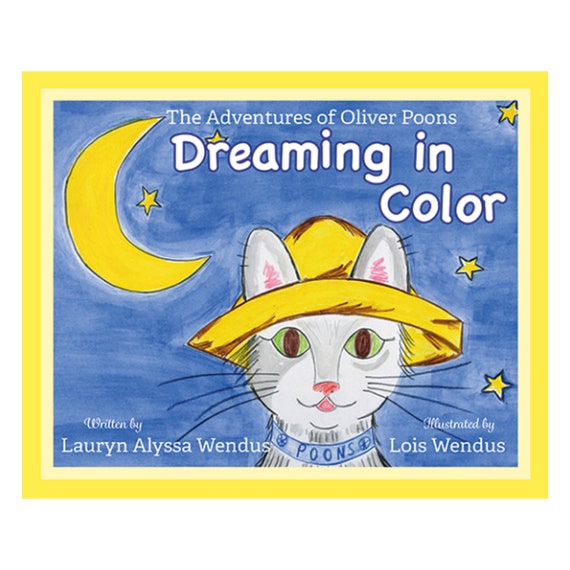 Oliver Poons Dreaming in Color – Whimsical – Personalized Gift – Children's Book – Baby Book – Cat Book – Bedtime Story by OliKidsCo
Oliver and Orange Kitty are at it again!
Join them as they bring color back into Oliver's dreamworld in this sweet and funny bedtime story. This is the second book in The Adventures of Oliver Poons series, which can be read and enjoyed in any order.
This 24-page hardcover children's picture book created by a mother-daughter duo is filled with beautiful watercolor illustrations to accompany a rhyming, whimsical children's story. Makes for the perfect gift! Appropriate for children Birth – 7 and animal lovers of all ages.
Your copy will be signed by the author and/or illustrator. You may also enter your child's name or a unique message to personalize your inscription.
—
The character Oliver Poons is inspired by author, Lauryn Alyssa Wendus' real-life rescue-cat, Oliver. The Oliver Poons Children's Company's Yellow Hats for Cats campaign raises awareness and donates funds to various animal rescue organizations and causes. Your purchase today supports this campaign and its mission. Be sure to follow @YellowHatsforCats on Instagram & social media for lots of fun!
Share this post & the power of local to your other favorite networks:
Buy on Etsy