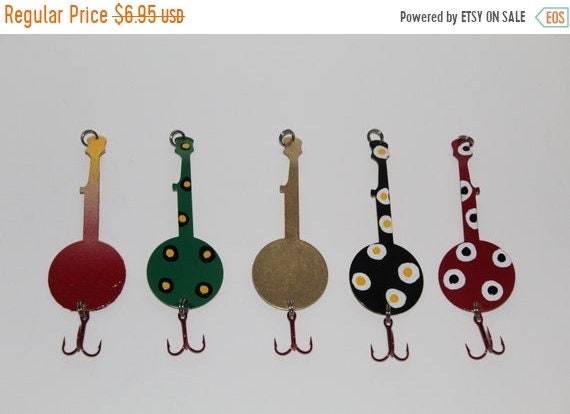 ON SALE Banjo Bass Fishing Lure; Gift for Banjo Players; Fisherman's Gift; Fresh Water Lures; Banjo Stocking Stuffer Fishing Lure; All Occas by lureofcripplecreek
Our Banjo fishing lures are made with bass fishing in mind and fish who know their scales love them!
Designed to fish tail instead of spinning around, they are made out of solid brass with stainless steel hooks and rings.
Approximate weight for the Banjos 1/2 oz.; Banjo measures 3.25 inches.
These quality lures are available in solid brass or colorfully hand painted patterns. The under side of the painted lures are plain brass.
Using my original designs the instruments are stamped specifically for me by a local company and are made by me in the USA.
Makes a great gift anytime gift for one who loves both music and fishing or enjoys collecting unique lures.
Sold individually and packaged on a lightweight card.
Please note: These are real fishing lures and should not be considered a toy or a gift for a child.
Share this post & the power of local to your other favorite networks:
Buy on Etsy