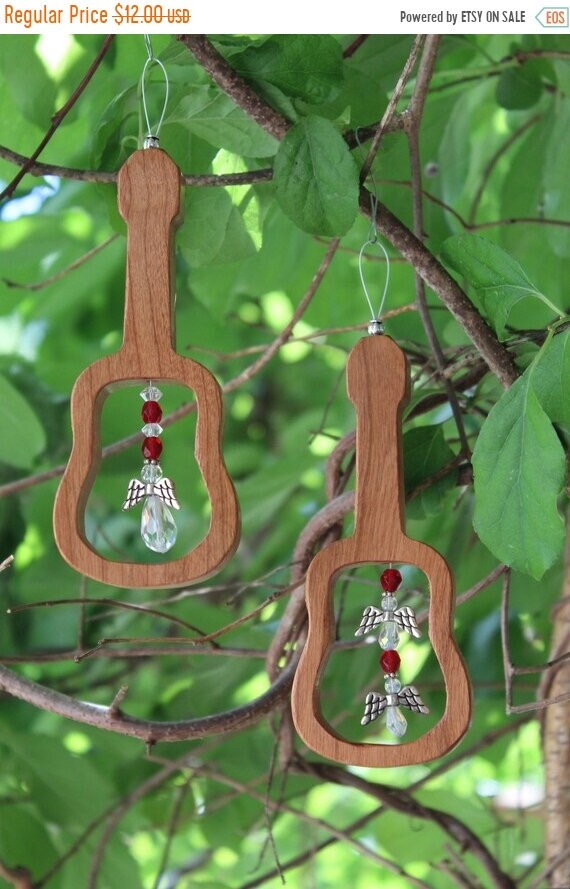 ON SALE Guitar Birth Stone Ornament; Guitar Suncatcher January-May Birthday; Gift for Musicians; Any Occasion Keepsake gift; Music Mother's by lureofcripplecreek
Please note: Wood frames may not be of Mahogany wood. I have substituted it Cherry wood if I don't have any Mahogany available.
Embellished with birthstone colored 6 mm round faceted glass beads each style has a guitar shaped frame made from solid mahogany wood and clear coated for a shiny finish. The angel is made of a round glass bead for the head; a faceted teardrop glass bead body; and antique silver tone halo and wings. An antique silver tone lantern bead tops the loop from which the ornament hangs.
Choose from 2 styles: Double small angels or single large angel. Each one is 4.5" X 1.75 and .5". Birthstone Colored suncatcher makes an ideal gift for any musician or music teacher. This listing is for the months January-May. A separate listing is available on the home page for the months of June-December.
Designed as a window decoration they can also be displayed on a ornament holder; hung as a car mirror decoration or as a Christmas ornament.
Perfect as a Birthday gift for any musician or music lover.
Ideal for celebrating anniversaries: crystal is the gift for 3rd year modern or 15 year traditional anniversary. Wood is the gift for 5th (traditional), 6th (modern) or 7th (desktop) anniversaries.
They add a personalized touch as a wedding party gift or as party favors.
They make a heartwarming in memory gift of a lost loved one who is now among with the angels.
Truly a unique gift for any occasion.
PLEASE NOTE USE & MATERIAL: I use solid mahogany wood which varies in color and tone. The amount of light will also change the appearance of the color as shown in the photos. If using for the outdoors please shelter from wind.
FOREIGN PURCHASES:
If your country is not listed below the shipping charges will be determined on an individual basis depending on destination. We recommend ordering at least 3-6 weeks in advance. We ship US Postal Service and most items leave the US within 3-5 days. The designated country delivery date depends on that postal service. Some countries require up front collection of fees and taxes, others do not. Please be aware of your country's requirements as we are not responsible for any additional fees or taxes levied by the recipients country.
Share this post & the power of local to your other favorite networks:
Buy on Etsy