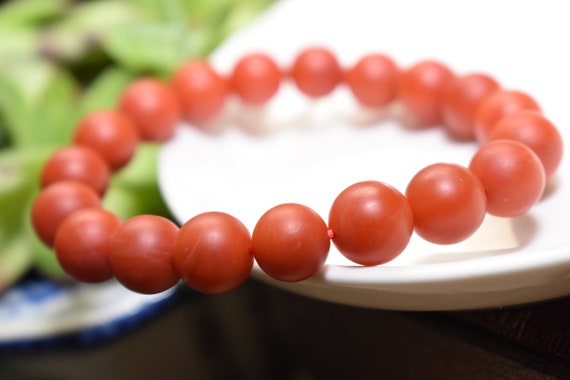 Premium Select High Grade Persimmon Red BaoShan NanHong Agate Stretch Bracelet, 10mm+, High Quality! Untreated! Comes with Cert! Rare Find! by NaturesArtUSADesigns
Premium Select High Grade Persimmon Red BaoShan NanHong Agate Stretch Bracelet, 10mm+, High Quality! Untreated! Comes with Cert! Rare Find!
By far, the deepest natural persimmon red we have came across with least impurities and high density!
Mines of BaoShan NanHong agate are currently closed for conservation purposes. The pieces available in the market now are mostly from BaoShan, YuNan district. However, many are baked to make them more red so that they can sell better. The bracelet in this listing is untreated.
The first and foremost factor of determining a good grade of NanHong agate is its color; the color has to be "full", meaning the color is even for the most part, with least impurities. And it goes without saying, the more red it is, the better. "Persimmon red", which carries a deep orange tone, is the color that is common for higher grade BaoShan NanHong available in the industry. The second factor is that the agate is "full of meat"; to the naked eye, it has the least translucency. When light shines through the bead, it is neither 100% translucent nor 0% translucent.
As the saying goes: "no cracks, not BaoShan"; BaoShan NanHong is known for its inner cracks. It is extremely hard to find larger beads without any inner cracks. The cracks look like agate "patterns" to the untrained eye, and are considered to be the signature of NanHong agate from the BaoShan region. Many believe the cracks solidify their authenticity, as many sellers tend to use NanHong agate from other regions and market them as BaoShan NanHong so that they fetch a higher price.
There is no perfection with Baoshan NanHong agate. Their inner cracks and minor fine black lines that are translucent under light are natural characteristics of this type of agate. If they do not have these characteristics and are low in price, there is a very high chance that they could be fake or treated. Deeper red, "fuller meat", and moist looking perfect beads are not something we can request for in the industry as they are not something money can buy. Authentic untreated "chilli red" BaoShan NanHong are extremely high in prices and are scarce, because high end collectors are unwilling to sell them knowing their future value. Therefore it is extremely hard to come by any true collector's grade BaoShan NanHong agate bracelet or neckpiece.
Most Baoshan NanHong agate are carefully hand polished to give it a matte finish. One reason for this is so that the inner cracks are not too visible on the surface of beads. The second and the most important reason is that Baoshan NanHong is known for its "moistness" and density; when worn for a period of time, the "moisture"/"oiliness" of the natural agate will become more visible on matte polished pieces. The very same is observed with YanYuan agate, known as the sister of NanHong agate.
Certificate is in Chinese with the exact picture of the bracelet.
A stone with peaceful energy.
Our products are natural, authentic, and go through strict quality control. Please be advised that minor potholes on the surface of products are naturally formed during the growth of the crystal. Size of crystal beads can vary slightly. Some beads may appear slightly "flat", due to the grinding process. These are part and parcel of naturally produced crystals.
We accept returns. Buyers assume return shipping cost and a restocking fee.
Please contact us if there is a problem with your shipment.
Thank you!!
Please follow us at:
www.facebook.com/NaturesArtUSADesigns/
Share this post & the power of local to your other favorite networks:
Buy on Etsy