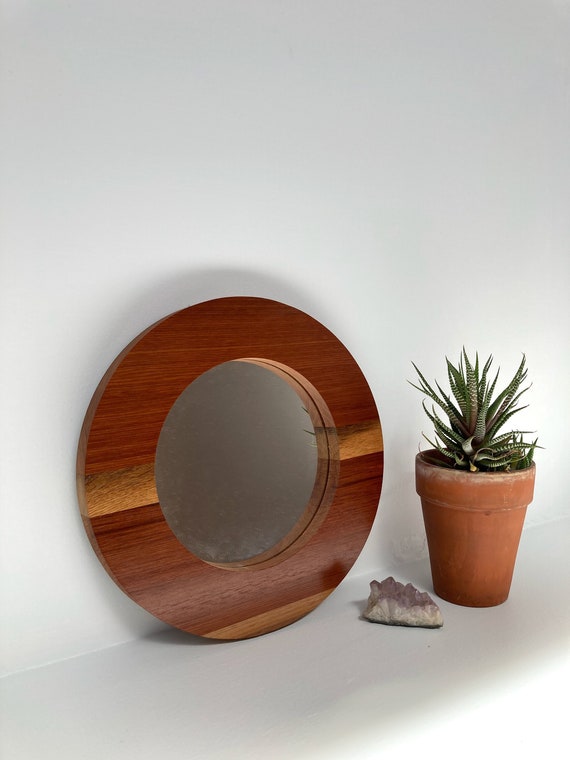 Round Wood Mirror, Reclaimed Wood, Eco Friendly Gift, Wife Gift, Gift for Mom by nicandthenewfie
I used some of my brother's wood collection to create a collection of round mirrors with rich, deep wood tones. there are two options- one is redwood with light oak stripes. the second is all redwood with a painted orange edge. each mirror is hand made so there will be slight variations in grain and stripe location from the one in the photos above. the woods included are oak (from pickle barrels) and redwood (from wine, grape juice and olive tanks). each mirror has wire so it can be hung on the wall. mirror is also reclaimed.
using reclaimed wood means that we repurpose wood from old buildings and objects so that they can have a second life and in doing so, can work more ethically for our planet
Oak Stripe: 1" thick, 12" circumference (Oak and Redwood) natural side
Redwood: 3/4" thick, 12" circumference (Redwood) painted orange side
your clock will come in a gift box and wrapped with bubble wrap and tissue
most of our work is made in series, so there are limited amounts of each design. while we can make more circle mirrors, they will be made out of different woods and have a slightly different pattern. in this way, we do not mass produce any of our designs. in this design series, there are 9 mirrors.
Share this post & the power of local to your other favorite networks:
Buy on Etsy