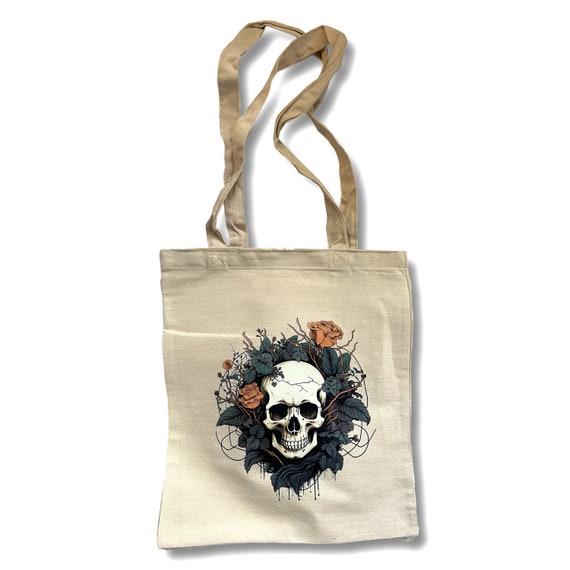 Skull and Roses Tote Bag by ChartreuseOnTheLoose
Introducing our stylish and resilient Canvas Colored Skull and Roses Tote Bag, the perfect accessory for those who embrace a fusion of edgy aesthetics and floral charm. Made from thick and durable canvas material, this tote bag effortlessly combines functionality with a touch of alternative elegance.
Featuring a captivating skull and roses design, this tote bag brings a unique and captivating vibe wherever you go. The intricate details of the skull and the vibrant hues of the roses add an edgy yet graceful touch to your everyday style, making it a standout piece that showcases your distinctive taste.
Crafted with meticulous attention to detail, our Canvas Colored Skull and Roses Tote Bag is built to withstand the demands of your daily life. The thick and sturdy canvas material ensures its durability, making it ideal for carrying groceries, books, or any essentials you need. Its reinforced handles provide extra strength and comfort, ensuring a reliable and comfortable grip.
With its spacious interior, this tote bag offers ample room for your belongings, while its natural canvas color complements a variety of outfits and occasions. Whether you're heading to a concert, shopping, or simply running errands, this tote bag is a practical and fashionable choice that effortlessly showcases your unique style and love for edgy yet elegant designs.
Elevate your style with the perfect fusion of alternative charm and floral allure with our Canvas Colored Skull and Roses Tote Bag. Embrace your individuality and make a bold statement as you carry your essentials in this durable and captivating accessory. Let your fashion sense shine and turn heads wherever you go with this extraordinary tote bag!
Share this post & the power of local to your other favorite networks:
Buy on Etsy