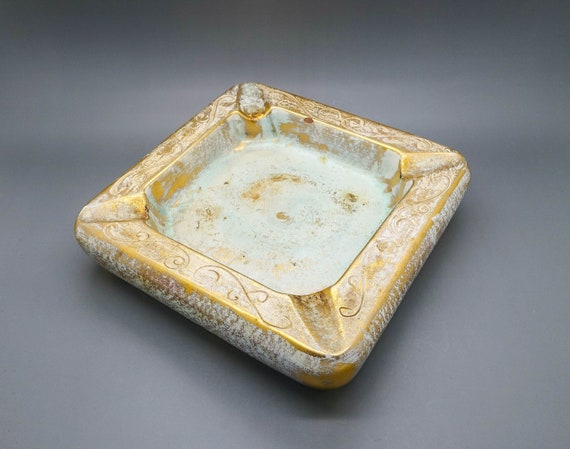 Strange Pottery Large Ceramic – Brass Plated Shabby Estate Ashtrays – Mid Century by Grandmasvintagepipes
Here I have another ashtray /pipe holder / cigar rest …or whatever else you come up with, but this time in a pair. The patina on this piece is great and has added a natural darkening to the brass. It is ceramic and looks to be coated to look shabby but way before that was a thing as this one dates to the 1950's. I don't know if it is metal coated as there is a dark rust spot near the rim (you can see it in the pictures). This one was made by a company called Strange Pottery. It is a very large piece at 7.5" square and weighing it at just about 2 pounds. Enjoy this conversational piece in your collection.
The pipes/cigars used in the pictures is for display purposes only. If you are interested in purchasing any of the pipes please contact me directly
The item: Strange Pottery Large Ceramic – Brass coated Shabby Estate Ashtrays – Mid Century
Overall Height: 2.0"
Width: 7.5" Square
Weight: ~2 pounds
Shipping:
All my items ship via USPS Priority Mail and I do combine shipping. I will ship this item in the USPS Priority Mail Regional Rate A box (cost is $12.00 for shipping in CONUS and will arrive in 2-3 business days). I will normally ship either same day or next business day. If there is a need for faster shipping, please contact me for a quote.
Share this post & the power of local to your other favorite networks:
Buy on Etsy