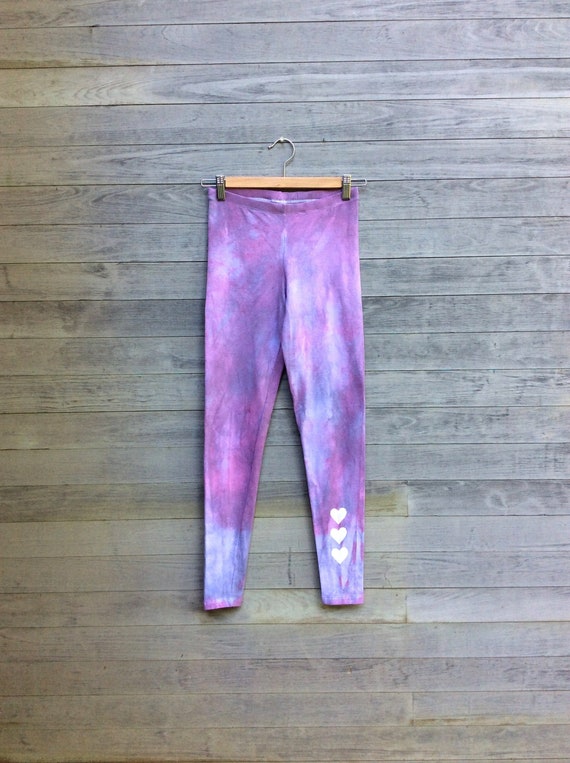 Sunset Leggings, Hand Dyed Leggings, Yoga Leggings, Heart Leggings, Purple Leggings by nicandthenewfie
i hand dye these leggings twice- once with a pink overtone and again with a grey undertone. like a beautiful sunset, these pants have a variation of color throughout. each pair of leggings will be unique and not look identical to the one pictured. after dying the leggings, i hand print 3 small white hearts on the lower front and back ankle.
these leggings will take you thru all the season and all the workouts. personally, i wear mine for yoga, walking and hiking but they are great for the gym, to wear around the house and to wear under a cute skirt.
Color: Sunset
small: US 0-2………….UK 2-4………….AU 4-6
medium: US 4-6…………UK 6-8……………AU 8-10
large: US 8-10………………..UK 10-12………..AU 12-14
xlarge: US 12-14………………..UK 14-16…………AU 16-18
HOW DO THEY FIT?
i would say they run a touch big because they are very stretchy. i'm wearing the small in these photos and they fit perfect on me- i'm 5'7", 140 lbs. they are from the american apparel line, 95% cotton and 5% elastane. they are stretchy, soft and durable. minimal shrinkage after washing. meant to sit up on the waist (up around the belly button)
xsmall- 26" waist
small- 27 "waist laying flat, 28-29" inseam for all sizes
medium- 29" waist laying flat
large- 30" waist laying flat
xlarge- 32" waist laying flat
CARE INSTRUCTIONS:
because these leggings are hand dyed, there might be some runoff the first time you wash them. please wash with dark colors or on their own in cold water. i recommend hang drying.
Share this post & the power of local to your other favorite networks:
Buy on Etsy