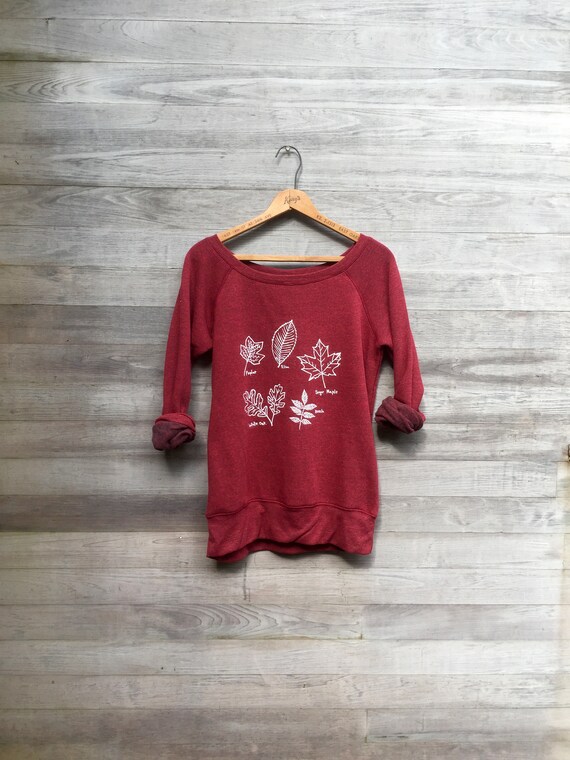 The Trailhead Top, Nature Shirt, Leaf Shirt, Autumn Top, Back to School, Fall Leaves, Gift for a Biologist, Gift for an Arborist by nicandthenewfie
i print my Leaves Drawing in White Ink onto a Super Soft Sweatshirt that has a wide scoop neck. the sweatshirt is soft, comfy and flirty. this is a different style from my other tops- there is no front pocket, the neck is hemmed and the material is a little more lightweight with a spongy soft feel. leaves included are a Poplar, Elm, Sugar Maple, White Oak and Beech.
this top makes a great gift for the naturalist in your life- the hiker, camper, and outdoor enthusiast! for the past few months i've been collecting my favorite leaves from my daily hikes in the woods with my dog. every once in a while i would find a special leaf and photograph it for when i finally got around to making this drawing. many of the trees i chose are ones i use in my woodworking- i use beech for my coasters, white oak for my clocks and maple for the frame holders.
SIZING INFO BELOW
………………………………………………………..
the tops will shrink a little in the length so if you have a long torso or on the taller side i suggest sizing up.
Small: Chest- 37" + Length- 23-1/2" (0-2)
Medium: Chest- 38" + Length- 24" (4-6)
Large: Chest- 40" + Length- 25" (8-10)
Xlarge: Chest- 44" + Length- 26" (12-14)
XXlarge: Chest- 46" + Length 27" (16-18)
shop policy overview:
all orders are final because everything is printed or made to order once you make your purchase. you can cancel your order within 12 hours of placing it because i typically print an order the following day. all orders are hand packed and usually get in the mail within 3-5 days (weekends and holidays excluding). you are welcome to exchange your piece as long as it has not been worn or washed.
Share this post & the power of local to your other favorite networks:
Buy on Etsy