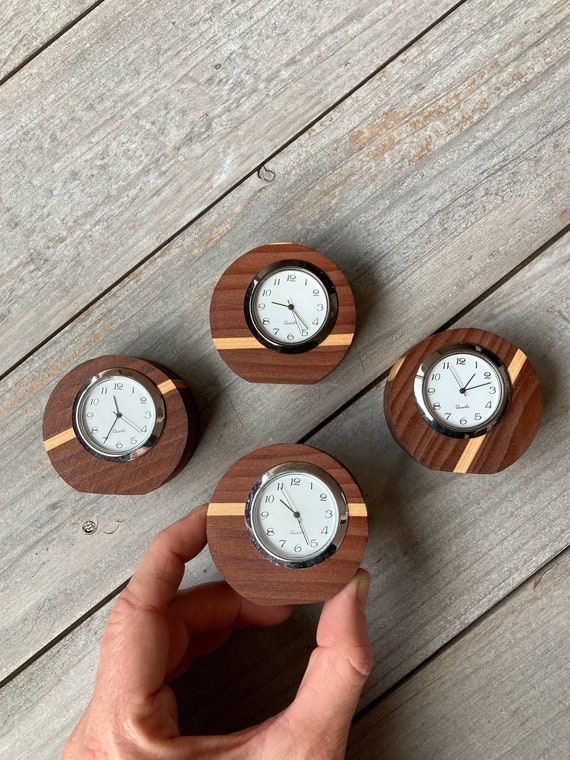 Tiny Wood Clock, Desk Clock, Reclaimed Wood, Bedside Clock, Stocking Stuffer by nicandthenewfie
My tiny wood clocks are made from a combination of reclaimed redwood and a light colored wood like white cedar or poplar. each clock is sanded, drilled and then gets a small, very quiet clock insert that pops in and out from the front. I start with a completely round clock and then sand down one edge so that it will sit nicely on a desk, bedside table, or any small nook where you want to keep track of the time but don't have a lot of space or want something inconspicuous. every clock is one of a kind because the stripe and the sanding are done by hand altho occasionally i will make multiples of the same design in a run so the wood color will match almost exactly.
size: 7/8" x 2-1/4"
my clocks are made from reclaimed wood and might show imperfections. i typically sand down most visible imperfections but occasionally there will be a nail hole, scar, or stain that shows up. the idea behind my work is not to make pieces that look brand new, but to make visually intriguing designs that marry materials that have history and can stay out of landfills. i am someone who welcomes imperfections but understanding that this is not everyone's taste, i always provide a front photo of the exact clock you will receive so that you can scan it's qualities for yourself before purchase.
shop policy: i do not accept returns but i do accept exchanges for store credit
Share this post & the power of local to your other favorite networks:
Buy on Etsy