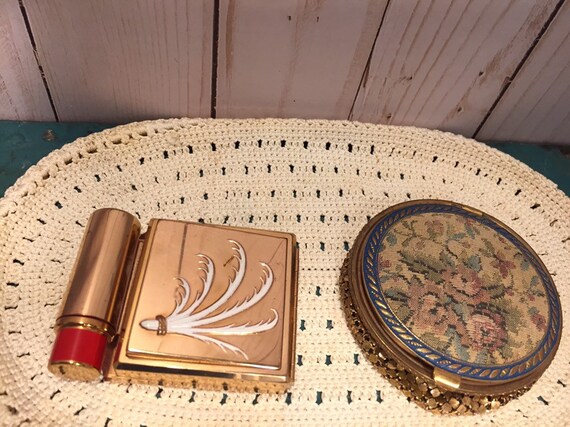 Vintage compact, compact mirror, MCM, makeup mirror, purse accessory, Rex 5th Avenue, Yardley, vintage vanity by Wantiquities
BUYERS CHOICE – use drop down menu below to select one of the vintage compact mirrors.
1. attributed to Rex Fifth Avenue Goldtone/Mesh compact. Blue enamel bordered lid with tapestry inset, mesh powder pouch with kid lining, no case identification, puff and embossed rouge with logo, hinged double metallic mirrors. Kid interior in good condition, has seen some powder in it's day. Very unusual compact!
2. Yardley vanity piece, compact with attached lipstick. Lipstick holder operates as the claps for this squeet piece. Feather design on the cover.
Keep shopping!
Thank you! Enjoy browsing!
Share this post & the power of local to your other favorite networks:
Buy on Etsy