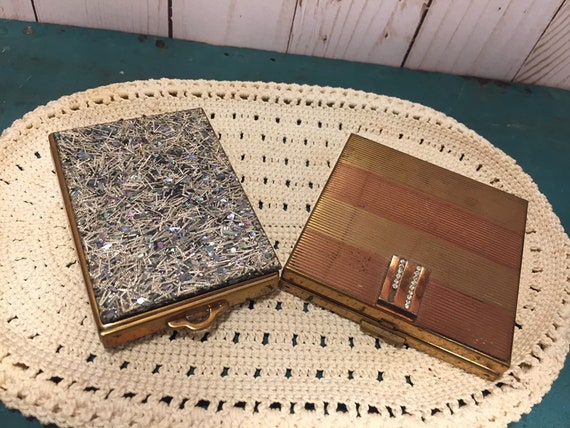 VIntage compact, compact mirror, MCM makeup mirror, purse accessory, Volupte by Wantiquities
BUYERS CHOICE – use drop down menu below to select one of the vintage compact mirrors.
1. vintage 1960s compact in very good condition.
It looks as if it were never used – there is no powder in it.
This piece is unmarked but has a patent number and is made in USA. It opens differently – it has the hinges on the interior, with a heavy beveled glass mirror. The tiny handle on the front hinges forward to latch/release the cover. The confetti lucite piece is unglued. It is in excellent condition but needs to be re-attached.
2. Volupte compact – interior mirror, trap door which originally held powder, now has residue.
Brass and copper colored stripes on lid, rhinestones on tiny handle, several missing.
Like what you see? Visit my shop for more vintage retro fun!
Thank you! Enjoy browsing!
Share this post & the power of local to your other favorite networks:
Buy on Etsy