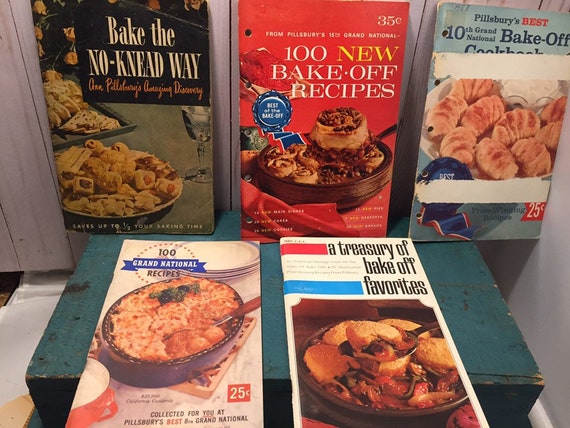 Vintage Pillsbury cookbooks, buyers choice, holiday baking, pillsbury bakeoff, christmas cookies, farmhouse kitchen, retro recipes by Wantiquities
BUYERS CHOICE – These cookbooks are such fun…to bake the classic recipes, for the graphics, or the stories within. For example, the winner in 1958 for this recipe which uses Condensed Cream of Chicken Soup, states "This was the 8th year I have entered…My husband, who is a government trapper, and I are going to buy a new home with the $25,000 I won for my veal casserole."
And did you know, ANN PILLSBURY was a real person…the director of Pillsbury's Hoe Service Center in Minneapolis!? (I always tell my cooking students that Betty Crocker was not an actual housewife but perhaps I better verify that!).
These books were all published in the late 1940s-1960s, by Pillsbury.
Each is around 100 pages long, colorfully illustrated, soft covered, in good vintage condition.
And the recipes are priceless!
Choose from the drop down menu below:
1. a treasury of bake off flavors (18th year, so 1966?)
2. 100 grand national recipes (guessing 1950 something…because the application for the bridal division says must be married in the 1950s)
3. Pillsbury Quick and Easy
4. Pillsbury's Best 10th grand national bake-off cookbook (1958) damaged cover
5. Baking the no-knead way (1945)
6. 100 new bake-off recipes (1964)
Like what you see? Visit my shop for more vintage retro fun!
Thank you! Enjoy browsing!
Share this post & the power of local to your other favorite networks:
Buy on Etsy