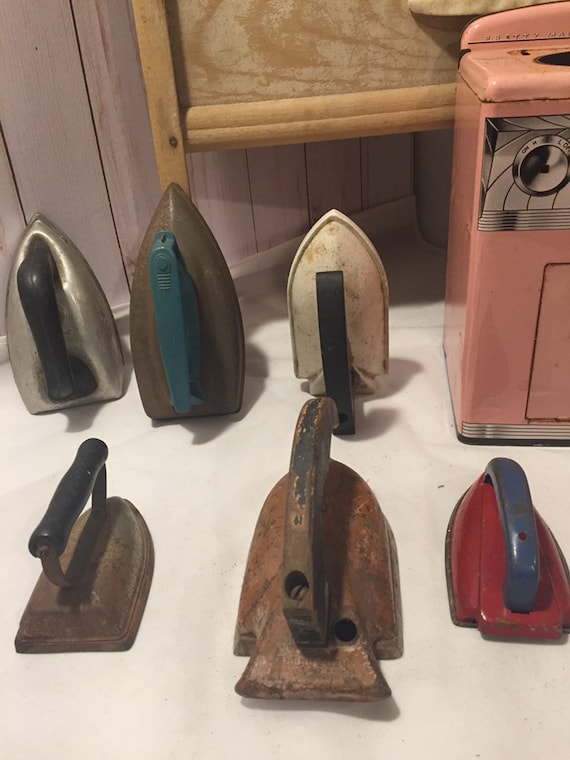 vintage toy irons, dolly dell, dolly dover, sunny suzy, wolverine, kitchen toy, tin toy, retro toy, pretend plaything, laundry room decor by Wantiquities
Is your style "vintage country"? "cottage core"?
Picture a shelf with these one or more of these cuties in a laundry room…next to a sassy faux vintage sign from H0bby L0bby!!
These are all in WELL LOVED VINTAGE CONDITION. The price includes shipping, so the heavier ones cost a little more than the light ones do. Guessing 1930s to 1940s.
Your options are: (choose below)
1. Small red – unbranded, 5 inches long. Sweet!
2. Sunny Suzy brand red paint with black wooden handle – 6 inches long
3. Dolly Dover sad iron, wooden handle – 3.5 inches long, very heavy
4. Heavy unbranded with ceramic with black wooden handle, 5.5 inches long
5. Lightweight Wolverine with green plastic handle 6.5 inches long
6. Lightweight Dolly Dell with plastic handle and dial that "works" 6 inches long.
SHIPPING INCLUDED IN THE PRICES
Like what you see? Visit my shop for more vintage retro fun!
Thank you! Enjoy browsing!
Share this post & the power of local to your other favorite networks:
Buy on Etsy